Forty crashes after freeze in Dumfries and Galloway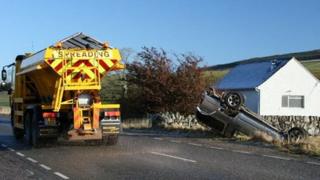 More than 40 crashes have been reported in south west Scotland following freezing temperatures overnight.
In one incident a bus, which was setting off on the morning school run, hit a sign near Hightae Primary.
A double-decker bus also skidded on ice at Tinwald Downs Road in Heathhall while taking some pupils to Dumfries High School.
Nobody was injured in either of the incidents which were among a large number reported since 0700 GMT.
The worst affected routes were the A76 between Holywood and Thornhill, the A75 near the Crocketford/Shawhead road, the A711 between the Long Wood and Beeswing and the A701 from Dumfries to Locharbriggs.
Problems were also reported on the Catherinefield Industrial Estate near Dumfries and the road linking it to the A709.
Police said the incidents ranged from single-vehicle crashes to three and four-car collisions.
A spokesman said: "At this stage there have been very few injuries as a result of these crashes, and where there have been injuries they appear at this stage to be minor."
He added that problems due to ice were continuing and drivers were asked to be "very careful" throughout the region.
Dumfries and Galloway Council praised the actions of the driver of the service bus taking pupils to Dumfries High School.
A spokeswoman said the bus had "difficulties" getting up a hill due to the icy conditions.
"The driver of this bus took the sensible decision not to proceed until he had further assistance," she said.
"As a result there fortunately was no accident and everyone remained safe.
"The pupils on this bus then either chose to walk in to school or returned home and made alternative arrangements for transportation."
Gritters stuck
Another council statement said main roads had been treated overnight in response to the Met Office forecast.
"The gritters treated the primary routes in accordance with the winter service plan," it said.
"A band of freezing rain fell this morning onto treated routes; the rain then froze.
"Gritters were deployed this morning as soon as the council's roads department was aware of the circumstances and are still out."
It said they were "difficult conditions to treat".
"Even two gritters have been stuck whilst trying to treat sheet ice," it added.