Dumfries and Galloway heavy rain and flood warnings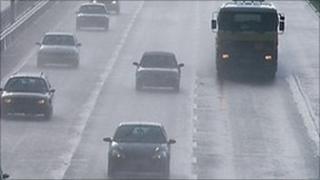 Police in southern Scotland have warned motorists to take extra care on roads in the area due to heavy rain and gusting winds.
Dumfries and Galloway Constabulary said it had received an weather warning from the Met Office for Saturday.
Up to 60mm (2.3in) of rain was possible on higher ground accompanied by strong wind or gales.
With the ground saturated in places, police said there was a continuing risk of localised flooding.
Dumfries and Galloway Council has also warned of a risk of flooding across the region.
The areas most likely to be affected are those prone to problems when it rains heavily rather than from rivers overflowing.
Property owners have been asked to reduce the risk of potential issues by checking that drains are free of ice and excess grit, clearing any blocks if it is safe to do so.
Meanwhile, recent bad weather has taken its toll on one route in the region.
The B729 Carsphairn to Moniaive road has been closed due to subsidence at its junction with the A713. Diversions have been put in place.