Dumfries football pitch plans back on table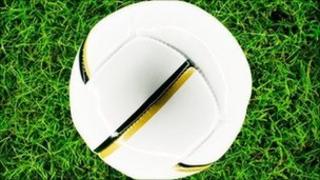 Plans to develop a full-size artificial sports pitch in Dumfries are back on the table despite the withdrawal of a major funding partner.
Dumfries and Galloway Council rejected a bid to site the facility at the Crichton estate in the town.
Three alternative venues have now been put forward.
Dumfries and Galloway College, which had been set to part-finance the original plan, has opted to develop a smaller facility in its own grounds.
The council is one of only four local authorities in Scotland without a full size third generation - or 3G - sports surface.
The option of establishing a synthetic facility within the Crichton estate in Dumfries has been ruled out but three other potential venues in the town have now been put forward.
The project costs range from £525,000 to a little more than £660,000.
The preferred option is the King George V complex which is already staffed by the council and has changing facilities.
However, this would be the most expensive of the three possible developments.
The mid-price option is to develop a 3G pitch at Maxwelltown High School, while the cheapest solution would be to construct a new synthetic surface within the grounds of St Joseph's College.
A report detailing the options is going to the council's resources committee with a recommendation to agree in principle to take the project forward and select a site.
Councillors will also be asked to approve the development of a funding bid to the authority's capital programme.