Scottish Borders crash spate on icy roads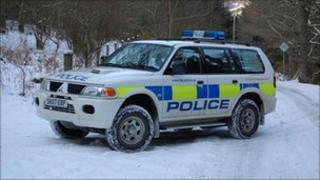 A spate of crashes has been reported across the Borders due to a fresh blast of winter weather conditions.
Overnight snow on top of black ice has been making driving difficult across the region.
A series of accidents saw the A7 shut on Tuesday but it has since reopened and is passable with care.
Surface water was reported to have frozen overnight on many routes making travel conditions particularly hazardous for drivers.
A string of minor crashes occurred across the area on Tuesday.
A 78-year-old woman was taken to Borders General Hospital after her car overturned on the A7 north of Galashiels at about 1300 GMT.
An hour later, a 24-year-old man was treated for shock after his car crashed on Langshaw Road in Galashiels.
There was also a lucky escape for a four-year-old boy and his mother who avoided serious injury after a head-on collision near Peebles at 1430 GMT.
The driver of the other car and her two-year-old daughter were unhurt.
Since the incidents, it has emerged Scottish Borders Council got no supplies of salt over the festive period, despite placing orders, until this week.
It has left stocks at their lowest levels since the bad weather began in November.
Deliveries throughout the week are expected to top up stores, but gritting work is currently being prioritised to main roads.
Council leaders have urged everyone to take care, especially on minor routes and pavements which may not have been treated.