Emma's Imagination back in Dumfries for album launch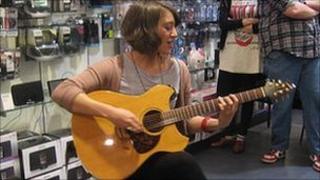 The winner of a UK-wide music contest has returned to her hometown to help launch her new album.
Emma Gillespie, who performs as Emma's Imagination, won Sky1's Must Be The Music competition in September 2010.
She was back in Dumfries, where she grew up, to perform at a local music shop to coincide with the release on Monday of her album Stand Still.
Emma said she was pleased to be in the south of Scotland town where she still had a "lot of memories".
She won the £100,000 TV prize after a public vote on her live performance at Wembley Arena in London.
Since then things have proceeded at a hectic pace.
"I won the show and everything was just accelerated - I got a record deal and I've recorded my album and now it's out," she told the BBC Scotland news website.
"It is doing really well in the album charts as well so I couldn't be happier.
"I've been getting some great feedback, I'm just so chuffed that all the fans are being so supportive."
She said returning to the town where she went to school - she attended St Joseph's College - was a chance to catch up with family and friends.
"It is nice to see some familiar faces and reminisce a bit," she said.
"I went to St Jo's so there are a lot of memories here for me."
The idea behind the Must Be The Music series was to find a "credible" musician than some TV talent shows have produced.
Her performances earned her praised from judges Dizzee Rascal, Jamie Cullum and Sharleen Spiteri.
Initial reviews of her album have been favourable and Emma said she hoped people would give it a fair hearing before making any judgment.
"I really just want the album to speak for itself," she said.
"All the songs on there - apart from two covers - I've written myself.
"Hopefully by word of mouth people will see it's a very honest, simple album that is there for people to listen to and make their own minds up."
Fans who gathered in the HMV store in the Loreburn Centre in Dumfries got to hear her perform a couple of her songs.
Another single is due out soon and then Emma's Imagination will be going on tour to promote the album.
She added: "It is going to be busy, but it's going to be great."