December was 'coldest in a century'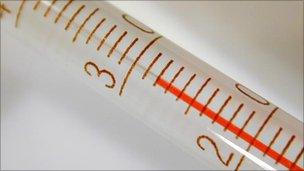 A south of Scotland observatory has reported the coldest December since its records began 100 years ago.
The Eskdalemuir site in Dumfries and Galloway saw a mean temperature for the month of -2.3C, beating the previous lowest of -2.25C set in 1981.
The month played its part in making the whole of 2010 the coldest year at the observatory since 1986.
However, rainfall figures were down significantly on the near-record amounts recorded in 2009.
The mean temperature for 2010 was just 6.67C, the coldest in nearly a quarter of a century but significantly warmer than the record low of 5.95C in 1919.
"Main reasons for the cool year were the months of January and December," explained Ian Dawson of the Met Office.
"In fact December 2010 has proved to be the coldest December in the observatory's 100-year history."
This did not make it the chilliest month on record - an honour which belongs to February 1947 at -2.8C and January 1940 at -2.75C.
The coldest nights of 2010 at Eskdalemuir were 7 January with -15.1C and 3 December with -14.6C.
"Unusually, the warmest day of the year came in May, with 25.5C being recorded on the 22nd," added Mr Dawson.
"The fact that on no day in July did the temperature reach 20C shows what a poor summer it was."
The year of 2009 saw near record-breaking rainfall of 2214mm in the region but last year it was only 1303mm, making it the driest year since 1976.
Related Internet Links
The BBC is not responsible for the content of external sites.