Edinburgh and Hawick callouts spark winter walker plea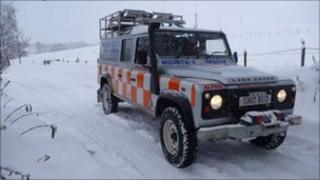 A Borders mountain rescue team has urged walkers to take extra precautions if venturing out in wintry weather.
The Tweed Valley Mountain Rescue Team (TVMRT) was called out twice in two days to hunt for missing people.
In both incidents - one near Hawick and the other in the Pentland Hills near Edinburgh - the hillwalkers eventually turned up safe and well.
The TVMRT said that while snow could be an "added incentive" for walkers they must go out "properly equipped".
Two young men were reported missing in the Ruberslaw area near Hawick on Friday night, leading to a search operation.
Two of their relatives had also headed into the hills to track the men down but all four returned home safely.
The team was called out again at about 1700 GMT on Saturday to help a young couple who had started walking from the Hillend ski slope but had got lost in waist-deep snow.
TVMRT members living closest to the Pentland Hills were paged and sent to the area amid fears that the pair were at risk of hypothermia.
Remaining team members from further afield were also called out and a senior TVMRT member was eventually able to establish mobile phone contact with the missing couple.
They were guided to the Edinburgh city bypass, where a vehicle was sent out to pick them up. They were found to be cold and tired but otherwise well.
'Deep snow'
TVMRT team leader Steve Penny said that while it was "quite rare" to be called out twice in one weekend it was "not surprising" it had happened while there was snow on the hills.
"Whilst the snow brings an added incentive for people to head to the hills, it is important to remember that walking in deep snow is much more time consuming and uses a lot more energy than a summer hill walk," he said.
"In these conditions sub-zero temperatures are not uncommon; couple that with short daylight hours and it's easy for people venturing onto the hills to get caught out.
"I think it's the right time to remind those heading for the hills to make sure that they are properly equipped for the conditions with warm clothes, torches, food and drink."
He said it was also essential to take a map and compass and have the knowledge to use them.