Girl 'stable' after being hit by ice on Borders farm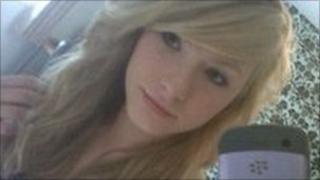 A teenager is in a serious but stable condition after being crushed by snow and ice which fell from the roof of a farmhouse in Berwickshire.
Samantha Kinghorn, 14, suffered spinal injuries when she was hit while clearing a path on Middlethird Farm near Gordon, on Thursday afternoon.
She was first taken to a Borders General Hospital near Melrose.
But she was airlifted to Glasgow's Southern General on Friday and underwent emergency surgery.
Staff there descibed her condition as "serious but stable".
Along with thousands of other pupils in the Borders, Samantha had been off school because of the weather conditions.
After the incident at the farm where her father worked, she complained of not being able to feel her legs and she was taken to the hospital in Roxburghshire.
On Friday morning her injuries were deemed so serious an air ambulance was called in to take her 70 miles to Glasgow. The journey by road was considered too dangerous.
There are fears of similar incidents happening with a temporary thaw ongoing, as temperatures rose above freezing for the first time in more than a week.
Scottish Borders Council issued a statement alerting people to the dangers.
It urged people to keep clear from the external perimeters of buildings to avoid injury from falling icicles, sliding snow and damaged gutters.
Roof warning
The statement said: "Temporary structures and agricultural sheds are usually most at risk.
"We would advise that the agricultural and business community inspect roofs on a regular basis.
"We would also stress that no-one should go onto roofs without carrying out a full risk assessment and without using the correct equipment."
A spokeswoman for the council said: "The latest forecast from the Met Office is for low overnight temperatures with some possible thawing during the day on Saturday and Sunday.
"These increased temperatures are likely to cause snow on roofs to begin to shift.
"The weight of snow from roofs should not be underestimated - if it falls on those standing underneath it can cause serious harm."