Scottish Borders braced for 'long winter'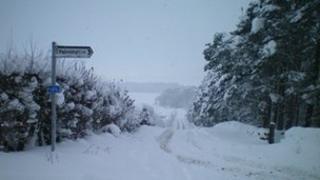 Scottish Borders Council has urged the public to play its part in helping to cope with winter weather in the region.
It said snow showers and extremely cold conditions were being predicted "right up to Christmas".
Refuse collection has been among the services worst affected and residents were being asked to try to clear a path to their bins if at all possible.
Council leader David Parker said the public could help to minimise the impact of heavy snowfalls in the area.
"We are making a plea to our residents to do what they can to help us keep services operating as much as possible across communities," he said.
"These are difficult circumstances which look set to continue for several weeks.
"I am sure our residents can understand that our staff are continuing to work at full capacity to keep roads clear and council services running where possible."
He said it was vital that everyone did everything they could to assist the authority.
"We need the public to help us gain access to their waste and continue to be good neighbours within their communities," he said.
"We would also like to ask residents to carry on helping vulnerable neighbours, family or friends to ensure they too can have their bin collected at an appropriate location."
Keep up to date with the latest situation through BBC Scotland's radio bulletins in the Borders on 93.5FM across the region.