Borders travel warning over snow and ice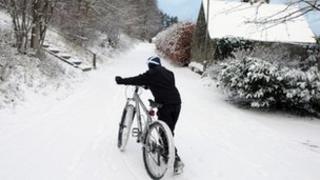 Drivers in the Borders have been urged not to travel as heavy snow continues to cause problems across the region.
The A7 is said to be passable only with extreme care and the A68 is shut, both at Soutra and south of Jedburgh.
There are also reports of cars getting stuck, while the A1 is closed at Berwick because of an overturned lorry with further problems at Cockburnspath.
Schools in the region were on holiday on Monday but no decision has yet been made on reopening for Tuesday.
The main roads which remain open are said to be generally only passable with care - sometimes extreme care.
That is said to be the case right across the Borders from Berwickshire through to Peeblesshire.
Many bus services have also been affected and the situation will be reviewed throughout the day.
NHS Borders suspended all out-patient appointments for the day and anyone with urgent medical issues was being advised to contact their GP or local medical practice.
Senior officials of Scottish Borders Council (SBC), NHS Borders and Lothian and Borders Police conducted a teleconference on Sunday afternoon to assess the implications of the severe weather.
The forecast for the rest of the week is for more heavy snow with temperatures plummeting to well below freezing in many areas.
An SBC statement said its services were working "round-the-clock" to ensure all trunk and A roads were kept clear.
It said main routes would be given priority although some town centre routes, pathways and side roads had been reached.
Salt levels were being carefully monitored to ensure supplies were being used effectively.
However, due to the extreme low temperatures, residents were being reminded that salt may have little effect and the council advised members of the public to take extra care at all times.
The council said social work services were continuing to maintain an essential service for all clients across the region.
Its emergency duty team can be contacted on 01896 752111 although the council advised that phone lines were very busy.
The authority has also urged individuals and local communities to work together to clear and grit paths as well as checking on elderly or vulnerable people in their area.
Keep up to date with the latest situation through BBC Scotland's radio bulletins in the Borders on 93.5FM across the region.