Galloway red kite trail 'worth £21m'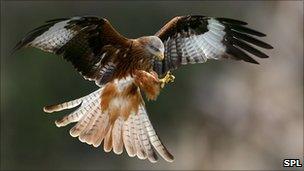 A new report has claimed visitors to a wildlife project in south west Scotland have put at least £21m into the local economy in the past six years.
The Galloway Kite Trail was created by a partnership led by RSPB Scotland.
It has also been estimated that the project has supported about 13 full-time jobs each year since it started.
An RSPB Scotland spokesman said the study showed "tangible benefits" were being delivered to Dumfries and Galloway by the red kite scheme.
The findings come from a survey carried out among hundreds of visitors to the trail which is a self-guided tour circling Loch Ken near Castle Douglas.
It promotes a set of destinations for visitors, including red kite viewing sites, activities and local businesses.
One of those businesses is the CatStrand arts and visitor centre in New Galloway.
Manager Rachel Thompson said: "We've been open for three years, and we've had links with the Galloway Kite Trail that whole time.
"I think it's quite a unique thing, and we definitely get visitors coming in to use our facilities from the trail, which helps us and the village.
"It's certainly had an impact, and I think it's brought the businesses on the trail together. Everyone involved knows that the link is a positive one."
The Galloway Kite Trail was set up following the successful re-introduction of red kites into Galloway after an absence of 130 years.
The birds were persecuted to extinction in Scotland in the 19th Century but have now made a comeback, with the estimated local population standing at over 270.
Environment Minister Roseanna Cunningham said: "I'm delighted to hear about the success of the Galloway Kite Trail and I'm sure that everyone who takes the tour is impressed by the beautiful birds and landscape.
"This is another example of the valuable contribution that wildlife-based tourism makes to the Scottish economy and it underlines the importance of looking after and enhancing our natural environment."
Chris Rollie, RSPB Scotland area manager for Dumfries and Galloway, said the community had "really embraced" the red kites since their re-introduction started in 2001.
"Now, as well as being able to enjoy seeing the kites in their day-to-day lives, people here know that the wildlife tourism being generated is bringing a tangible benefit to local businesses," he said.
"It's a success story, both for the birds and for the people of Galloway, and it's very satisfying to see the hard work of so many people really paying off."
Related Internet Links
The BBC is not responsible for the content of external sites.