Borders primary school with no pupils to close permanently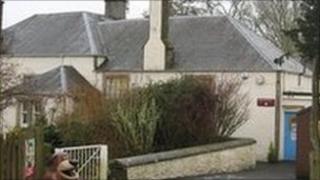 A Borders school, which has been left with no pupils, will be permanently closed in December.
Roberton Primary near Hawick, is currently lying empty and the local community had wanted to see the building "mothballed" for two years.
But Scottish Borders Council said there was no evidence to suggest that the number of children in the area would increase to make the school viable.
Education has been provided at the school since 1834.
Councillors backed director of education Glenn Rodger's recommendation that Roberton Primary should permanently close at a meeting of the full council.
He said the catchment area of Drumlanrig St Cuthbert's Primary would be be amended to include Roberton.
Eight years ago Roberton Primary boasted 21 pupils but the number has dwindled sharply.
The final death knell came in the summer when the remaining three pupils at the school indicated they would be moving to Drumlanrig after the holiday period leaving Roberton with no pupils.
The council went through a consultation period despite there being no pupils at Roberton.
It received 14 responses to the first consultation - with five expressing their preference the school closed permanently and nine wishing it to be mothballed for two years.
From the second consultation - six responses were received, with one saying the school should close permanently and the five others asking for it to be mothballed.
Mr Rodger's report pointed out that, based on three pupils attending Roberton, the most recent costs had been calculated as £50,165 per pupil at Roberton compared with the Scottish Borders Council average of £5,421.
He said: "The majority of responses from the consultation process are in favour of mothballing the school for two years.
"However, there is little evidence from the roll projection that there will be sufficient children to make the school viable in the future.
"Mothballing may result in the council incurring unnecessary expenditure when it is unlikely that the school will re-open.
"The educational benefits for the children attending Drumlanrig St Cuthbert's Primary School are clear and this view is supported by her Majesty's Inspectorate of Education."
The council said that the cost of mothballing the school would have been £2,613 per annum while the market value of the property was in the region of £140,000.