Scottish Borders Council approves £2.4m spending cuts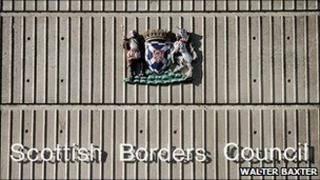 Scottish Borders Council has approved plans to cut £2.4m from the local authority's spending this year.
The changes were agreed by the authority's executive in the summer and went before the full council on Thursday.
The move means that education and lifelong learning will see the biggest reduction, losing almost £1.5m from its annual budget.
The authority said they are expecting a budget reduction of £16m next year.
The action means that the recruitment of a dozen teachers, intended to reduce primary school class sizes, will not take place.
In the social work department, charges for some home care services will be introduced.
The plans are expected to bring in an extra £140,000 in this financial year and £335,000 the following year.
It means that existing and new service users will be charged for things that used to be free - including meals, transport and residential services.
The council said the aim was to keep as many people living in their own homes as possible but that, in light of the financial situation, changes had to be made.
Scottish Borders Council leader David Parker said: "The currently agreed savings will be barely noticeable to most Borderers.
"The head of audit in Scotland has described the budgetary reductions to come as 'ugly' and the next financial year is going to be the biggest challenge we have seen in living memory."
Mr Parker added: "There is no doubt that every aspect of the council service is under review and, very sadly, there will be some difficult decisions to take and Borderers will notice some service reductions in 2011-12.
"Some things will have to change and some services may have to stop."