Police question MP David Mundell over election expenses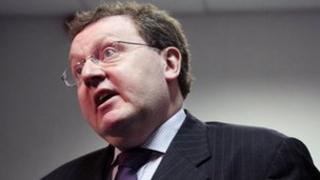 The Scotland Office minister, David Mundell, has been interviewed by police over election expenses, it has emerged.
It has been alleged the Dumfriesshire, Clydesdale and Tweeddale MP spent more than permitted under election law.
Scotland's only Tory MP has been urged by Labour politicians to stand down from his ministerial role during the police investigation.
Mr Mundell, who was interviewed by police on Monday, has said the situation arose due to "human error".
The police investigation was launched earlier this year after which Scottish Secretary Michael Moore voiced his support for his deputy.
He said he did not believe it was necessary for Mr Mundell to relinquish his Scotland Office role.
However, Dumfries and Galloway Labour MP Russell Brown said he believed his Tory counterpart's position was now "impossible".
He urged Prime Minister David Cameron to intervene and remove Mr Mundell from his "current responsibilities" until the investigation was over.