Dumfries adventurer seeks rower for North Pole mission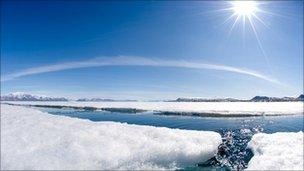 A final crew member is being sought to complete a team planning a 450-mile rowing trip to the North Pole.
Dumfries adventurer Jock Wishart is leading the challenge - a world first - to highlight the affect of climate change on ice around the polar regions.
It follows his two previous North Pole trips and a row across the Atlantic.
The winner of a competition, which has just been launched, will be guaranteed a place on the Old Pulteney Pole Position Challenge in summer 2011.
In a specially designed "ice boat", Mr Wishart and his five crew will set off from Resolute Bay in Canada and row across the Arctic to the magnetic North Pole.
The estimated four to six-week voyage has never been undertaken before and is only possible now due to the increase in seasonal ice melt of the Arctic landscape.
Nevertheless, the team will face dramatic ice-bound coastlines and shifting sea-ice barriers.
Mr Wishart said: "It's the challenge of a lifetime for someone out there.
"But it's a very unusual person we're after.
"Ideally they would be used to rowing, have had experience in cold climates and be able to show a strong mental attitude and determination to succeed."
He said there would be plenty of "excitement, adventure and opportunities for the winner to test their mettle and physical stamina".
Shortlisted entrants will be invited to compete head-to-head in a Pole Position Challenge Day on 20 November.
The winner will then be personally trained by Mr Wishart, who captained the team that broke the London to Paris rowing record in 1999 and in 1992 was part of the first group to walk unsupported to the geomagnetic North Pole.
He said of the latest expedition: "It is only possible because of the melting ice in the polar regions.
"Whether this is cyclical, whether this is because we are pumping too much CO2 into the atmosphere, it is happening nonetheless.
"We want to demonstrate to people there's a problem up there."
The deadline for entries for the challenge is 1 November.
Related Internet Links
The BBC is not responsible for the content of external sites.