Dates for South of Scotland public sector cuts debates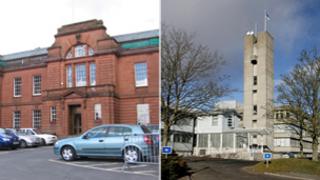 Two BBC Radio Scotland debates are to be held in southern Scotland over the potential impact of public sector cuts.
They come as the new UK coalition government prepares to unveil plans to tackle national debt next month.
Many public sector organisations have already warned of the impact that is likely to have on services.
Listeners can apply to be part of the audience at the debates, which are being held in Dumfries on 11 October and Newtown St Boswells on 13 October.
The will offer a chance to hear directly from the people making the decisions about the future of public services.
Senior politicians will be on the panel, while the audience will include people with a vested interest in the future of all aspects of life in southern Scotland.
The Borders debate will take place on the evening of 13 October at the Tweed Horizons Centre near Newtown St Boswells.
To be part of that debate you should email selkirk.news@bbc.co.uk or phone 01750 724567.
The Dumfries event takes place two nights earlier at the Brigend Theatre in Dumfries.
To join the audience that night email dumfries@bbc.co.uk or phone 01387 268008.