UK's worst rail crash at Quintinshill remembered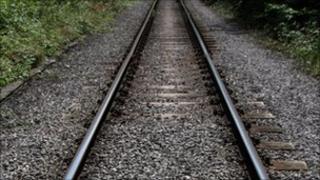 A new memorial overlooking the scene of the UK's worst rail disaster is being unveiled.
The commemorative plaque has been installed at Quintinshill Bridge near Gretna Green in Dumfries and Galloway.
It has been put in place to honour the 227 people who died when three trains crashed at the site on 22 May 1915.
Many of those who lost their lives were soldiers with the Royal Scots who were on their way to fight in the First World War.
The special dedication ceremony is part of plans by the local community to create a heritage trail in the area.
It hopes people will turn out in force to pay tribute to those who died.
As well as claiming the lives of more than 200 people, nearly 250 more were injured in the crash.
The accident happened when a troop train carrying about 500 soldiers of the Royal Scots en route to Gallipoli crashed into one train and was subsequently struck by another.
The Royal Scots suffered the vast majority of casualties, with 215 killed, as fire ripped through the wooden train, fuelled by the gas lamps used for lighting.
Burned alive
The crash accounted for a large percentage of the battalion's casualties for the entire war and it remains Britain's worst rail disaster.
Two signalmen were later jailed for their part in the incident.
The Times reported at the time under the headline "Troop Train Disaster".
It said: "Many passengers were burned alive.
"The dead bodies, which lie in a white farm building near the railway and in a little hall at Gretna, are charred and scorched.
"There will be no remains to identify some of the soldiers.
"The debris of the trains has been their funeral pyre."
'Terrible disaster'
It was also reported that King George V had sent a telegram to the general manager of the Caledonian Railway Company.
"The King is shocked to hear of the terrible railway disaster near Carlisle which has cost the country many valuable lives," it said.
"His Majesty deeply sympathises with those who have lost relatives and friends and trusts that you can send satisfactory reports about the injured."
Eyewitness described hearing cries of help from those who were trapped in the wreckage.
Many of those who scrambled out of the debris tried to rescue the people still stuck inside but were driven back by the heat.
Initial estimates put the death toll at 158 but that subsequently rose to more than 200.
A dedication ceremony in their honour at the site where they lost their lives takes place at 1500 BST.