Mountain biker trapped in cable car overnight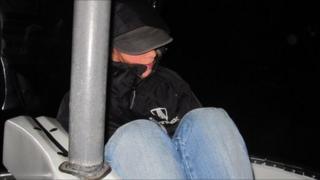 A Borders mountain biker has spoken of her ordeal after being trapped for 13 hours in a cable car suspended 40ft (12m) above a Brazilian rainforest.
Jaymie Mart, 29, of Innerleithen, had got into the gondola with a friend to check out a world championship track.
However, it ground to a halt and left them dangling in the air overnight as nobody heard their cries for help.
It was only when the cable car was restarted in the morning that the pair were able to get back onto the ground.
The incident happened last week at the beach resort of Balneario Camboriu in southern Brazil.
Ms Mart, originally from Penrith in Cumbria, was competing in the Masters World Championships when she got into the gondola, along with American cyclist Damion Smith, at about 6pm.
Shortly afterwards they got stuck in mid-air.
Ms Mart - a four times Scottish Downhill Mountain Bike Series champion but who represents Barbados on the world circuit due to her dual nationality - said their frantic calls for help went unanswered.
They watched monkeys swinging in the trees below and eagles flying past as they huddled together for warmth.
The ordeal ended at 7am when the lift started running again and the pair were able to get out of the cable car.
Temperature drop
Ms Mart said: "We just assumed the gondola was still open as it was running and there were no signs to say otherwise.
"As soon as we stopped I realised we might be there for the night, so I got straight on the phone to my mum back in the UK to see if she could alert someone and Damion started shouting for help out the window.
"It became apparent no-one could hear us, and my mum couldn't get hold of anyone to help, so we just resigned ourselves to a night in the gondola."
One of her biggest concerns was the drop in temperature.
"It got so cold that we had to take off our shoes and any bits of paper we had in our pockets to block the air vents to try and keep some warmth in," she said.
"We tried to get some sleep but the gondola benches were tiny and you couldn't stretch out.
"What made it worse is we'd both just stepped off long-haul flights so we weren't exactly feeling, or smelling too fresh.
"We got pretty hungry and thirsty - and going to the toilet wasn't exactly easy either!"
'Hard to explain'
By the time the lift started the next morning the pair had spent 13 hours trapped in the small carriage measuring 8ft by 10ft (2.4m by 3m).
Ms Mart said: "It's hard to explain how relieved we were when the lift started to move at about 7am - we just looked at each other and grinned.
"The look on the lift worker's face as we strolled past on the way out was priceless, they obviously had no idea we'd been up there."
However, the ordeal did not appear to affect their performance as both Ms Mart and Mr Smith went on to achieve silver medals at the championships.