Assurances over Dumfries and Galloway's police cut impact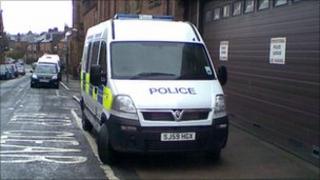 The chief constable of Dumfries and Galloway Constabulary has said any cuts in officer numbers should not dent public confidence in the force.
A freeze on police recruitment could cut 44 posts from Scotland's smallest force over the next four years.
However, Pat Shearer told Dumfries and Galloway Council's police committee councillors it would continue to provide the best service possible.
He said it would remain a "lot better" than in other parts of the country.
The force is bracing itself for a 24% reduction in its budget - a total of about £6.7m.
A jobs freeze could reduce the total number of police officers on the force from 503 to 459.
Mr Shearer said: "We are delivering a very, very good and quality service in virtually every area that we are engaged in.
"It is about understanding that we will have to have a step back from some of those areas.
"The public can be reassured that we will focus on the things that are absolutely important to us."