Hawick sheltered homes face demolition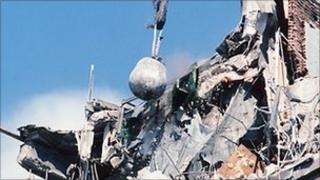 A former sheltered housing complex in Hawick is to be demolished because it is not economically viable to carry out improvements.
Tenants of the amenity housing in Deanfield Court will be offered alternative accommodation.
The site is operated by Scottish Borders Housing Association, which said it was the "cost efficient" option.
However, MSP Christine Grahame said it called into question the decision to transfer council homes to SBHA.
No timescale has been set for the Deanfield Court demolition.
Meanwhile, a range of options, including demolition, are on the table for Tweed Court in Kelso, another former sheltered housing site.
Tenants there have already been told about the proposals.
Housing services director Sue Parker said the Deanfield Court decision had been taken on the basis of value for money.
She said one of the issues was the number of bedsits in the development which were no longer in "people's aspirations" and proved difficult to let.
However, Ms Grahame said the moves raised questions about the decision by Scottish Borders Council to transfer its stock.
"An urgent review of SBHA's efficiency as a housing provider is now needed," she said.
"I am certain if Borders tenants knew then what they know now about the housing transfer then it would have been soundly rejected."