Dumfries pays respects to fallen soldier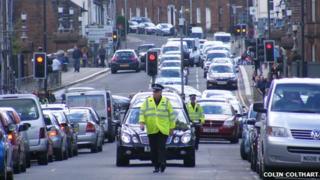 Hundreds of people have lined the streets of Dumfries to honour a soldier from the town killed in a rocket attack in Afghanistan.
A hearse carried L/Cpl Joseph Pool through the centre, giving the public a chance to pay tribute.
The procession from Burns Statue to the Municipal Chambers was greeted by applause as it made its journey.
Friends, family and former members of his regiment were also present to pay their final respects.
Dumfries MP Russell Brown, who helped set up the event, said it was the public's opportunity to honour the local soldier.
L/Cpl Pool, who was 26, was serving with the Royal Scots Borderers in Helmand Province when he was killed in a rocket attack by insurgents on 5 September.
His body was returned to Wootton Bassett last week before being released by the Ministry of Defence to his family.
L/Cpl Pool latterly lived in Greenock where his funeral will be held at a later date.
However, his family wanted him to be taken round his home town of Dumfries one last time.
The slow journey started at 1500 BST as the town's clocks chimed out the hour.
Hundreds of people had gathered at Burns Statue and they applauded and threw flowers as the hearse passed.
'Sad time'
The vehicle then made its was through the town centre and then turned back at Nith Place and along the Whitesands before coming to a halt in Buccleuch Street.
There was one final moment of reflection there before the short procession was over.
The head teacher at his former school said everyone had been "extremely saddened" to hear of L/Cpl Pool's death.
Terry Pierce said: "He is remembered by staff at Maxwelltown High School as a friendly, diligent student with a sense of humour.
"Our thoughts are with his family and friends at this sad and difficult time."
L/Cpl Pool joined the Army in August 2003 and leaves behind his fiancee and their two sons, aged seven and two.