Mixed reaction to Borders drinks price pilot proposals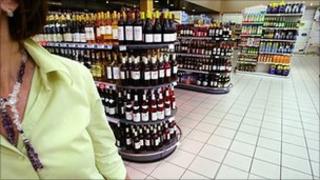 An MSP's proposal to pilot minimum alcohol pricing in the Scottish Borders has generated a mixed response from the public.
Some BBC Scotland news website readers suggested other parts of the country would be better suited to Christine Grahame's suggestion.
However, others agreed it could be the "perfect place" to test the policy.
The Scottish government unveiled proposals this month for a minimum charge of 45p for a unit of alcohol.
South of Scotland SNP MSP Ms Grahame suggested the Borders might be used for a pilot scheme.
The proposal has been criticised by her colleagues Lib Dem Jeremy Purvis and Tory John Lamont.
Response from the public to the proposal has been split, but more people told the BBC they were against the plan than in favour.
Anne Brown, from Galashiels, suggested any introduction of the scheme in the Borders would simply encourage people to head out of the region for their shopping.
"If it were only the Borders then I would just nip up to Tesco at Harden Green (in Midlothian) for my weekly shop, including alcohol, instead of Tesco at Galashiels," she said.
"It does seem a shame to take trade out of the region but this is what this ridiculous pilot would lead to."
Other people voiced concern about being treated as a "guinea pig" and suggested other areas might be more appropriate.
Grace Murray, from Stow, in Selkirkshire, said the move could be damaging to the Borders and would be better targeted at "urban areas".
Her opposition was echoed by Jane Pearson from Kelso who said the region was a "forgotten area" until it came to testing "controversial bills".
"I must say that from studying on the Isle of Lewis I have noticed that they have a far worse problem with drink than the Borders," she claimed.
"The SNP don't want to hit the area where they are strong - the Outer Hebrides - and they want to hit where they don't have a clear mandate."
Questions were also raised about the validity of restricting the scheme to one geographical area.
Those readers said any legislation should be implemented nationwide and should target supermarkets with "cheap deals" rather than the "dying" pub trade.
Others criticised Ms Grahame for hopping aboard "any band wagon she thinks she can find a seat on" and "trying to raise her own political profile".
'Political football'
However, there was support for the proposal from Veronica Bott, from Peebles, who said Ms Grahame's comments should not be taken "out of context".
"We have to start somewhere and the Borders may turn out to be a good place to try a pilot scheme," she said.
"As for being used as guinea pigs, then think back to digital television!"
Steven Brannigan, from Twynholm, in Dumfries and Galloway, agreed it could be the "perfect" location for a trial.
"The health authorities, police and alcohol groups want it," he said.
"Westminster wants it, it's only the Scottish Unionists that don't want it because it is a major policy by the SNP.
"Meanwhile, many more will die while these so-called Scottish parties play political football with our own nation's health."