Annan pipe band championships generated economic boost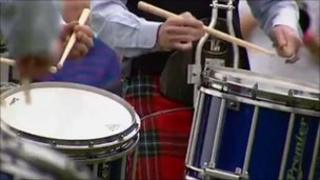 A council has estimated that hosting the British Pipe Band Championships in Annan has generated more than £150,000 for the local economy.
The event, which was held in June, attracted more than 8,000 visitors to the area.
Dumfries and Galloway Council said the visitors had spent a significant amount of money in the region.
The authority will stage the event until 2012 and hopes to increase the revenue in the years to come.
The event is co-managed by the council and the Royal Scottish Pipe Band Association.
Councillor Ian Carruthers said the extra spending was a welcome boost to the area.
"This event was vitally important to Annan in 2010 and received great support from local people," he said.
"It was a privilege to welcome more than 2,500 pipers from around the world to Dumfries and Galloway and the event can only go from strength to strength in 2011 and 2012."
RSPBA chief executive Ian Embelton said the event had been a "great success" and the economic figures were "very positive".
"We look forward to working with our partners to increase the profile and value of this event in the years ahead," he said.