Dumfries gardens fight to save their conkers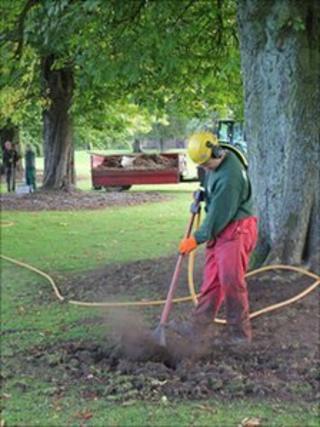 Tree care experts have been called onto a Dumfries estate to try to save its conkers.
Horse chestnut trees in the Crichton Gardens were diagnosed with bleeding canker two years ago.
However, staff saw a story on the BBC's Countryfile programme about early trials of a technique by University of Reading and Bartlett experts designed to save the trees.
They have now been called on site to try to help eradicate the disease.
They will spend three days passing on their knowledge to local grounds staff.
Gary Hill, who is leading the work, said: "We will be working to loosen the soil around the roots of these trees, a process known as root invigoration.
"We will then carry out soil amendments where we add in a mix of fertilizers that have been specifically designed to meet the requirements of these trees.
"Once that's done we will be looking for the Crichton grounds staff to ensure that the area immediately below each tree is protected to allow the tree to get on with the job of fighting this infection."
Gordon Mann, chief executive of the Crichton Trust, said he hoped the action would be a success.
He said: "Unfortunately we have had to remove several chestnut trees as the infection had gone too far but we hope this treatment will allow us to save some of the remaining ones or at least prolong their lives.
"While we always replace any tree that has to be taken out we could not simply stand back and watch these magnificent chestnut trees die without putting up a fight."
Chestnut trees have been a prominent feature of the Crichton site for decades and it is a popular spot with children gathering conkers for the traditional playground game.