Connaught jobs transfer discussed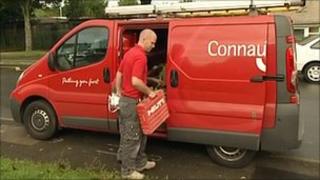 Talks are to take place about a housing contract transfer affecting 150 jobs in Dumfries and Galloway.
Social landlord DGHP will meet with representatives of Lovell's to discuss taking over the deal with Connaught after it went into administration.
A statement from local Labour politicians had suggested the transfer of work had already been agreed.
However, DGHP said it had to decide what was best for its tenants before agreeing to switch the contract.
Connaught went into administration last week but part of its operations was bought by construction firm Morgan Sindall.
It has been estimated the deal will save 2,500 jobs in the UK, with employees transferred to Morgan Sindall's housing unit Lovell Partnerships.
A statement issued by Labour MP Russell Brown and MSP Elaine Murray along with councillor Colin Smyth claimed that a deal had been done and said DGHP had "dragged its heels".
That has been denied by the social landlord who said no transfer had been agreed and it would be meeting with Lovell's to discuss the situation before any such move could be made.