Tobacco haul found inside sandals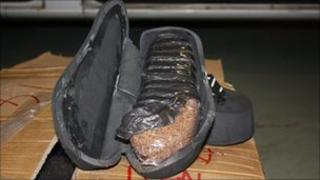 HM Revenue and Customs officers have seized counterfeit tobacco worth more than £100,000 in the south of Scotland.
The operation, involving Dumfries and Galloway traffic police, was carried out on the A74(M) at about 0045 BST on Friday.
A van was stopped containing more than half a tonne of smuggled tobacco - some concealed inside sandals which had been brought into the country from China.
The HMRC said the driver had been detained and inquiries were ongoing.
A spokesman said the operation was part of ongoing "disruption tactics" against organised Chinese criminal gangs involved in the import, processing and packaging of counterfeit hand-rolling tobacco.
The van was found to contain 50 boxes of tobacco along with a large amount of counterfeit packaging.