Police identify car used in Dumfries hit-and run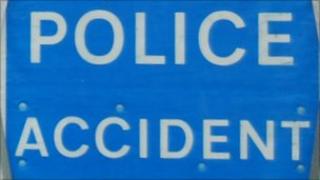 Police have identified the car used in a hit-and-run in Dumfries which left a man in a critical condition.
The incident happened at about 2350 BST on Monday on St Mary's Street, near Lovers Walk in Dumfries.
Dumfries and Galloway Constabulary said a 60-year-old man who was walking home was struck by a vehicle, which failed to stop.
The car has been identified as a blue Corsa, registration S328ANU, which was taken from its owner's home.
A number of passers-by stopped to assist the injured man before he was taken to hospital.
Insp Neil Hewitson said: "The man has sustained a number of critical injuries.
"If it wasn't for the good work done by some passing motorists who stopped to help him this collision may have been a lot worse.
"We are particularly keen to trace the driver of the vehicle concerned."
Sgt Doug Millar said: "I am appealing for the driver of this vehicle to come forward and identify himself or herself, the gentleman who was knocked down is still in DGRI in a critical condition.
"I would also like to ask any member of the public who saw this vehicle at any point during Monday evening or who has any information as to who the driver might be to contact us or call Crimestoppers."
Insp Hewitson added: "Striking a pedestrian in this manner suggests dangerous or possibly excessive speed.
"Failing to stop and report it also shows a completely irresponsible attitude."