Langholm grouse moor project examined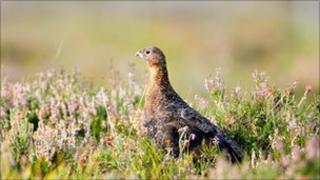 MSPs have visited a grouse moor scheme in southern Scotland as part of a rural affairs committee meeting.
It was part of their information gathering while preparing new countryside legislation.
The Langholm Moor Demonstration Project aims to see whether a grouse moor can be commercially viable while protecting hen harriers and other raptors.
After the moor visit, MSPs heard from animal welfare groups, gamekeepers and other interested parties.
Among the topics debated were snaring, wildlife crime and the control of non-native invasive species.
A wide range of groups were represented at the meeting in Langholm's Buccleuch Centre including the Scottish Gamekeepers Association, Advocates for Animals and the Game and Wildlife Conservation Trust.