Borders motorcycle family speak of loss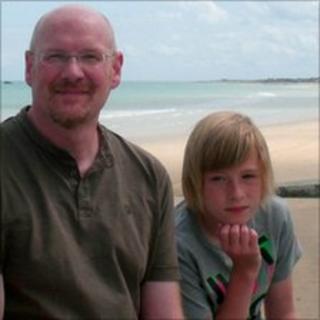 The family of a father and son killed in a motorbike crash has said the loss would leave a huge hole in their lives.
Colin Rafferty, 51, and Keir, 15, died after their BMW bike left the A72 near Galashiels and crashed into trees.
The father of three from Tweedbank was a coach for the Gala Fairydean Football Club, and his son was a youth player.
His wife Brenda and sons Craig and Neil said they had lost a wonderful father and husband, and a son and brother who had been the centre of their lives.
In a statement issued through Lothian and Borders Police, the family said: "Colin was always there for everybody, nothing was ever too much.
"He was passionate about life and lived it to the full.
"He will be remembered by friends, colleagues and the wider community from his role as a community psychiatric nurse and as a football coach for Gala Fairydean Youths.
"Keir was the youngest son and the centre of all our lives.
"He brightened up any room he walked into with his cheeky grin and being a young man who said a lot in a few words.
"He loved his football and was a natural pillion passenger. He and his dad loved the bike, travelling in the UK and Europe together.
"This tragic loss will forever leave a huge hole in our family life.
"However the memories of their lives will keep us smiling and laughing at the many antics the two would get up to."
The pair had been travelling towards Galashiels at about 1730 BST on Saturday when the crash happened.
No other vehicles were involved.
Mr Rafferty died at the scene and Keir was taken to Borders General Hospital where he later died.
A police spokesman said they were still trying to ascertain the cause of the crash and have appealed for witnesses.