Port William cat rescued from drain pipes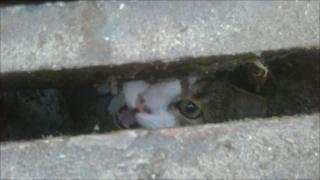 The Scottish SPCA has rescued a cat after it spent two days stuck in a network of drain pipes.
Officers were called out to Main Street in Port William on Thursday after a resident heard the animal's cries coming from under her conservatory.
Toots, a seven-year-old male tabby cat, had crawled deep into pipes underneath the property in south west Scotland.
He had gone missing on Tuesday and was eventually coaxed back out of the drain by the sound of his owner's voice.
It is thought he may have got into the pipe system from an outlet at the nearby harbour.
Scottish SPCA ambulance driver Tracy Cannon was called to the scene to try to rescue the cat.
'Very hungry'
"When I arrived at the address I saw that holes had been cut into the garden and the lady, kindly helped by her neighbours and a local joiner, had already gone to great efforts to have some of the floorboards and concrete in her conservatory uplifted," she said.
"The pipe-work was exposed and we could see and hear the cat below, meowing, but we just couldn't get access to him and eventually he moved further along the pipes and away from us.
"We traced the pipes out into the road and lifted several manholes to try to find him."
It was at that point that owner Louise Kerr turned up to help with the search.
Ms Cannon said: "Thankfully, terrified Toots responded to the familiar voice of his owner and popped his head out of one of the open manholes while we were calling his name.
"We were delighted to be able to reunite Louise with Toots after what must have been a scary ordeal for the wee cat.
"Hopefully he's learned his lesson and won't go anywhere near a drain pipe again!"
Ms Kerr said she was "over the moon" the cat had been found.
"Anytime he's gone missing in the past I've found him down at the harbour stuck in the lobster creels, but after hours of searching he was nowhere to be seen and I was starting to get quite worried," she said.
"It was only when I contacted the local vets that I was told that a lady had reported a cat stuck in her drains and I knew that it must be Toots so I rushed over to help find him.
"He was very hungry when I got him home, but after a plateful of prawns and some milk he was quite happily lying outside sunbathing and none the worse for wear."