Eyemouth cliff plunge woman rescued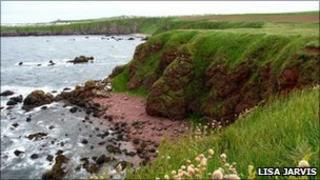 A woman has been airlifted to hospital after falling 50ft (15m) down a cliff on the Scottish Borders coast.
The walker was stranded overnight on rocks in Eyemouth, Berwickshire, after breaking her leg and ankle in the fall at about 2200 BST on Wednesday.
A dog walker heard her cries for help several hours later and alerted the emergency services.
Forth Coastguard said a helicopter crew from RAF Boulmer airlifted the woman to Edinburgh Royal Infirmary.
'Lucky lady'
The casualty, who is in her 30s, also injured her head and back in the fall at Killiedraught Bay.
The rescue operation was launched at around 0620 BST, with coastguard crews from Eyemouth, Dunbar and Humberside in attendance.
Forth Coastguard Watch Officer Stephen Foley said: "This is one lucky lady, thankfully the weather overnight was quite warm and this probably helped save her life.
"If you are walking near cliffs, particularly if it's dark, please use a torch so you can follow the path and stay well away from the edge."