Borders hospital drug error 'did not cause death'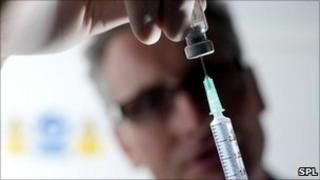 A sheriff has ruled an overdose of a blood-thinning medication did not cause a pensioner's death in Borders General Hospital in 2008.
Peter Short, 78, of Norham, near Berwick-Upon-Tweed, was given the drug after suffering a heart attack.
A fatal accident inquiry found a double dose did not contribute to his death.
Last week a sheriff recommended changes at the hospital after a grandmother died following an "inexplicable" error in dose of the same drug.
Mr Short was taken to Borders General Hospital on 2 May 2008 with a suspected heart attack.
He was mistakenly given a double dose of blood-thinning drug Enoxaparin along with clot-busting medication.
His condition subsequently deteriorated and he had a cerebral haemorrhage and died the following night.
A post-mortem esamination blamed Mr Short's heart attack - and existing problems - as well as the bleeding within his brain for the death.
Sheriff James Farrell called the overdose an "isolated human error" which had not been caused by any failure in systems or procedures at the hospital.
However, NHS Borders has since made changes at the BGH to ensure there is no repeat.
Last week another inquiry recommended changes in procedure after the death of Annie Mercer, 71, who also received an Enoxaparin overdose at the hospital.
It also concluded the drug had not played any part in how she died.