New prehistoric shrimp colonies found at Caerlaverock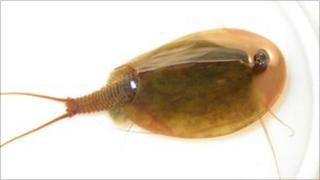 Two new colonies of one of the UK's most ancient creatures have been discovered in south west Scotland.
The tadpole shrimps - which date back at least 220 million years - have been found at the Caerlaverock reserve in Dumfries and Galloway.
Researchers from Glasgow University said it was a "positive early result" from their exploratory project.
Scottish Natural Heritage described the discoveries as a "real boost for Scottish wildlife".
The creature had been thought to be extinct in Scotland until it was found at Caerlaverock on the Solway Firth in 2004.
Heavy rains in 2008 led to it being spotted again.
The discovery prompted the Wildfowl and Wetlands Trust, Glasgow University and SNH to team up to investigate how widely the species was distributed.
Masters student Elaine Benzies discovered the two new colonies.
Having taken mud samples from pools in the area, she dried and then re-wetted them in small aquaria.
Ancient survivor
She was "absolutely amazed" to find the creature in one of the tanks within a couple of weeks.
She said: "I hadn't expected to find it and was just going in to check on the heat and lights.
"It was great to see everyone in the lab, including the cook from the canteen, gathering round and peering into the tank to look at this ancient survivor from the past."
The only other known UK population before the Caerlaverock discovery in 2004 was at the New Forest in England.
Prof Colin Adams of Glasgow University said: "It's encouraging to get such a positive early result from this exploratory project.
"We must now extend its scope to widen the area of search for this rare and charismatic freshwater animal."
Dr Colin Bean of SNH said it was "thrilling" to find such a stronghold for the creature.
"Clearly there is more work to do if we are to discover how widely it is distributed, but these new findings are a real boost for Scottish wildlife - especially in this, the International Year of Biodiversity," he said.
Fossilised remains prove tadpole shrimps were around 220 million years ago in the Triassic period - pre-dating the dinosaurs.
Experts say they do not appear to have changed in appearance since that time.