Downpours see drought order bid dropped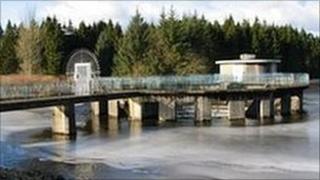 A drought order application has been dropped and another put on hold after heavy rainfall in south west Scotland.
Scottish Water had submitted its bids due to concern over stocks at the Black Esk and Penwhirn reservoirs in Dumfries and Galloway, after a long dry spell.
Those plans have now been changed thanks to a "sustained period" of rain.
The application for an order to cover Black Esk has been withdrawn while the bid concerning Penwhirn in the west of the region has been suspended.
Scottish Water said the rainfall, combined with the help of customers in "efficiently using water resources", had made it possible to take the action.
Service Delivery Director Peter Farrer said: "Scottish Water would like to thank our customers across Dumfries and Galloway for using water wisely.
"This area has had some of the driest weather experienced in generations, with rainfall levels for several months being well below normal.
"Through the support of our customers and the sustained rain in the last few weeks our reservoir levels are rising across the area."