Cyclists head to Borders festival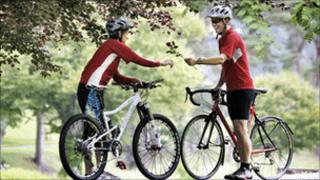 Hundreds of cyclists are expected to converge on the Tweed Valley for the area's first ever cycling festival.
Entitled TweedLove, the week-long event starts on Saturday and includes a mix of road and mountain biking activities, as well as film and food.
The festival has been devised by bike enthusiast Neil Dalgleish and former professional mountain biker Emma Guy.
Mr Dalgleish said there had been a "great reaction" to the event from people across the Borders and beyond.
"It is our first year but we hope that TweedLove will become an established fixture in the cycling calendar and play its part in underlining the Tweed Valley's reputation as a top UK cycling destination," he said.