Lockerbie questions 'for British government'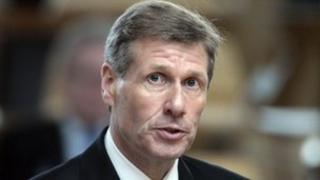 Scottish Justice Secretary Kenny MacAskill has said questions being asked about the Lockerbie bomber are matters for the UK government.
Prime Minister David Cameron is to meet US senators to discuss allegations BP lobbied for his release.
Mr MacAskill said he refused a bid to move Abelbaset Ali al-Megrahi to a Libyan jail under a prisoner transfer agreement between the UK and Libya.
Instead he released him on health grounds due to his terminal cancer.
Senators from New York and New Jersey want to meet Mr Cameron over the release of al-Megrahi.
BP has admitted lobbying the UK government in 2007 over a prisoner transfer agreement (PTA) with Libya, but denied specifically discussing the man convicted of the Lockerbie bombing.
A prisoner transfer request was made by Libya in May 2009, less than a week after a treaty allowing prisoners to be transferred was ratified.
However, Mr MacAskill stressed that when he released al-Megrahi in August last year it was not under that deal.
"We can understand the questions that are being asked in the United States regarding oil and what may or may not have been done by the British government," he said.
"These relate to the prisoner transfer agreement, to the application made by Mr al-Megrahi.
"I refused that because I too had concerns as to what may or may not have been done and whether it had been made an assurance to families that he would serve his sentence here."
He said he could understand the questions being raised by the US Secretary of State and senators.
"But these are questions that have to be answered by the British government," he said.
"It was the British government that perhaps did a deal in the desert but that will be for them to state and for the senators to discover."