School dinners get 'deli' makeover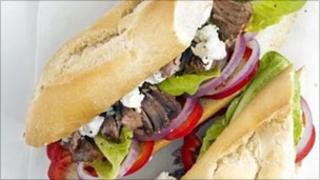 A south of Scotland council has agreed plans for a "deli-style" makeover of its school meals.
The service in Dumfries and Galloway ran at a loss of more than £240,000 in the last financial year.
Uptake was more than 50% among primary pupils but just 26.4% at secondaries.
Councillors hope the changes can encourage more children to take school meals. They have also approved plans to increase primary prices by 5p and secondary charges by 10p.
Sandra McDowall, who chairs the education committee, said the new menus would be introduced at the start of the new term in August.
She explained: "The consultations done with young people suggest that they don't want a sit down meal, but would rather have something deli-style and quick.
"Family eating patterns are different than the past and the main meal tends to be in the evening.
"Young people prefer to use lunch time to meet with and talk to their friends and we need to acknowledge this."