Tory leadership: Where do the final candidates stand on indyref2?
By Philip Sim
BBC Scotland political correspondent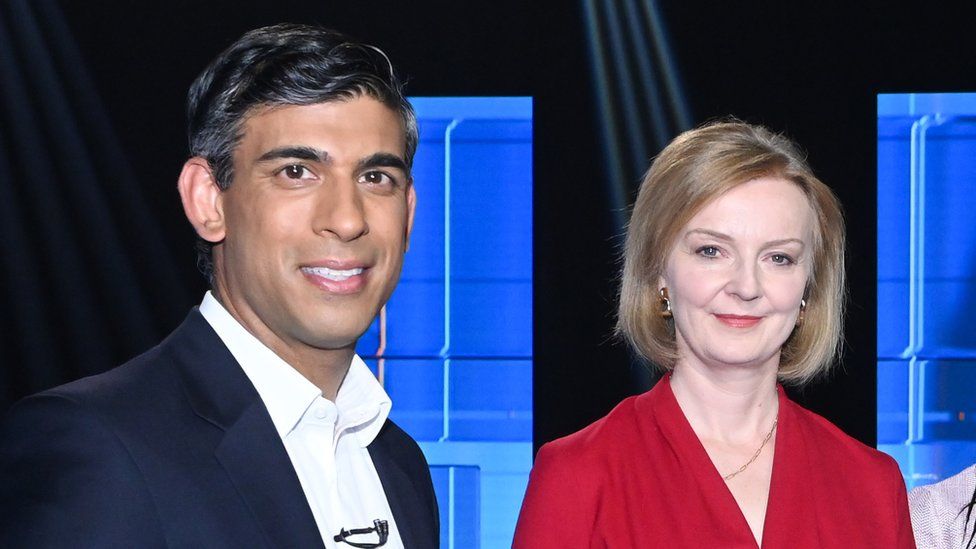 They now face a vote of Tory party members, and whoever wins when the result is announced on 5 September will immediately face demands from the SNP for an independence referendum to be held in October next year.
Here is a what each has had to say about Scotland.
The former Chancellor's resignation alongside Health Secretary Sajid Javid played a key role in the collapse of support for Boris Johnson within the government.
Mr Sunak was an early frontrunner in the race to replace Mr Johnson, with his Ready for Rishi campaign being publicly backed by more Conservative MPs than any other candidate. However he has pitched himself as the underdog in the ballot of Tory members.
His campaign has stressed the UK-wide interventions he made as Chancellor, particularly during the pandemic and in distributing levelling-up funds.
The Richmond MP has also focused on future general elections, claiming that other candidates could lose to Labour and "allow the SNP into power via the back door".
He has pledged to "rule out holding another divisive Scottish independence referendum", arguing that people want politicians to focus on the cost of living crisis, energy security and economic growth rather than the constitution.
And he says he would aim to bring the whole of the UK closer together rather than indulging in "political point-scoring" if he becomes PM.
Mr Sunak said he wanted to lead a UK government "willing to roll up their sleeves and get stuck into creating jobs, growth and prosperity in all corners of the UK, from Llandudno to Perth, Belfast to Birmingham".
This would involve the London administration getting more involved in making spending decisions across the UK, which he said would "abandon the Westminster 'devolve and forget' mentality and become the most active UK-wide government in decades".
He said he would reconstitute the Downing Street "union unit", bringing together different departments to make sure their policies UK-wide.
However, this has led to accusations from the SNP of a power grab of devolved responsibilities, with Westminster leader Ian Blackford calling it a "dangerous proposition".
Mr Sunak said: "There is nothing more Conservative than our precious union, and everything great that we have achieved we have done so as one family.
"For all of these reasons, my government will do anything and everything to protect, sustain and strengthen it."
In 2020, Mr Sunak denied claims published in the FT newspaper that he had once told a Conservative colleague that it would be in England's best financial interests to break away from the UK.
The foreign secretary stayed on in Boris Johnson's government while others resigned, and has secured support from Tory MPs loyal to the prime minister including Jacob Rees-Mogg and Nadine Dorries.
She is seen as representing the right of the party, and has based her leadership bid on the promise of immediate tax cuts and a longer-term drive to reduce the size of the state.
The view of her as a "continuity candidate" is underlined by the fact her slogan has been "delivery, delivery, delivery", stressing achievements in government rather than the need for change that others have promoted.
While Mr Sunak won more backing from MPs, Ms Truss is a heavy favourite with bookmakers to triumph in the vote of Conservative members.
She also has more support from Conservative MSPs, after a group of nine penned a joint letter in the Times endorsing her candidacy.
Ms Truss lived in Paisley as a child, where she attended West Primary School and once played the role of Margaret Thatcher in a class hustings ahead of the 1983 general election.
She told the Scotsman that she got zero votes, adding: "I didn't even vote for myself. Even at that age we knew it was simply unpopular to be a Tory in the West of Scotland."
But she has said that the Conservatives "wouldn't have the ideas, the leaders or the legacy we have today" without Scots.
The South West Norfolk MP describes herself as a "child of the union", adding that "I really believe we're a family and we're better together".
On independence, Ms Truss has said she would not support a fresh vote, saying "no, no, no" at a hustings event in Exeter,
She has repeatedly said that the SNP had described the last referendum in 2014 as "once in a generation", adding: "I don't think we're through that generation yet."
And she has been critical of the first minister, saying: "I think the best thing to do with Nicola Sturgeon is ignore her.
"She's an attention seeker, that's what she is.
"What we need to do is show the people of Scotland, Northern Ireland and Wales what we're delivering for them and making sure that all of our government policies apply right across the United Kingdom."