Scottish secretary continues to back Boris Johnson as PM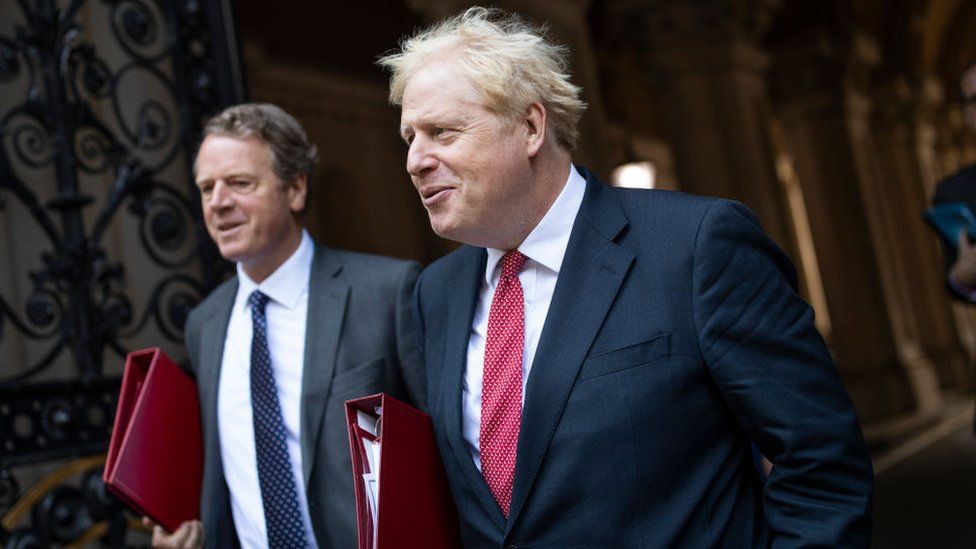 The Scottish secretary has pledged his support for Boris Johnson as the PM fights for survival amid a growing revolt over his leadership.
Alister Jack gave his full backing to Mr Johnson, saying the government had a job to do and was getting on with it.
But another Scottish Tory MP, David Duguid, has quit his post and said the PM's position is now "untenable".
The BBC understands that a group of ministers is preparing to tell Mr Johnson that he must go. They include Nadhim Zahawi, who only accepted the role of chancellor on Tuesday, as well as Northern Ireland Secretary Brandon Lewis and Welsh Secretary Simon Hart.
Michael Gove, the levelling up secretary, has also told Mr Johnson to step down.
Mr Johnson has been hit by a wave of resignations and many backbenchers who had previously been loyal to the prime minister have withdrawn their support.
David Duguid, who had previously backed the PM in a confidence vote, has quit as a fisheries and trade envoy.
He said: "I believe the prime minister's position is now untenable."
Ruth Edwards has resigned from her post as parliamentary private secretary to the Scotland Office. She is MP for Rushcliffe in Nottinghamshire.
The prime minister has so far made it clear he does not intend to leave Number 10, and has appointed Nadhim Zahawi as his new chancellor and Steve Barclay as health secretary.
Mr Johnson told the Commons that he won a "colossal" majority at the last general election and intended to keep going.
The majority of Mr Johnson's cabinet have rallied round him - including Mr Jack, Dominic Raab, Ben Wallace, Liz Truss, Nadine Dorries and Jacob Rees-Mogg.
In a statement released on Tuesday evening, Mr Jack said: "I fully support the prime minister".
The Dumfries and Galloway MP added: "I am sorry to see good colleagues resign, but we have a big job of work to do, and that's what we're getting on with".
Mr Jack sat close to Mr Johnson on the front bench during Prime Minister's Questions on Wednesday afternoon.
How could Boris Johnson go?
If bosses change the one-year rule on leadership challenges, rebel Tory MPs could try again to oust him later this summer, or in the autumn
If Mr Johnson lost a vote of no confidence in Parliament, he would have to resign or call an election
Otherwise, he would have to resign himself - possibly in the face of cabinet pressure, like Margaret Thatcher - or after a fresh wave of ministerial resignations
His position continues to leave him in the opposite camp to Scottish Conservative leader Douglas Ross and the vast majority of the party's Scottish MPs and MSPs.
Mr Ross said his views had not changed since he voted against the prime minister in a confidence vote of Tory MPs in the House of Commons last month, which Mr Johnson won by 211 to148.
He told BBC Scotland that there was now "overwhelming" opposition to Mr Johnson among Conservative MPs and that more resignations were coming.
And he said Mr Johnson had to "accept that his time is up and reach the honourable decision to move aside and stand down for a new leader to be elected".
The current rules mean Mr Johnson cannot face a leadership challenge until June of next year - although his opponents within the Conservative Party are attempting to change that rule.
Many of those opponents believe it is now only a matter of time before Mr Johnson is forced to stand down, with Mr Sunak and Mr Javid both highly critical of him in their resignation letters.
Mr Sunak said the public expected government to be conducted "properly, competently and seriously" while Mr Javid warned the leadership was not "acting in the national interest".
Mr Javid's resignation statement in parliament on Wednesday saw him tell MPs he had concluded that the problem "starts at the top" and "that's not going to change", adding: "Enough is enough".
Their resignations came just minutes after Mr Johnson admitted in a BBC interview that he made a "bad mistake" in appointing Chris Pincher as deputy chief whip in February despite being aware of sexual misconduct allegations against him.
It followed days of changing responses from No 10 over what exactly Mr Johnson knew about the allegations facing Mr Pincher when he gave him the job.
The row is the latest in a series of controversies to have hit the government in recent months, with many Tory MPs also upset over parties held in Downing Street during lockdown, the response to the cost of living crisis and tax rises.
Scottish Conservative peer Lord Duncan, a former Scotland Office minister, said Tory MPs were now facing a choice between "jumping into the lifeboat and paddling furiously away, or clinging to the wreckage".
Opposition leaders have urged other cabinet members to join Mr Sunak and Mr Javid in quitting, with First Minister Nicola Sturgeon saying that "the whole rotten lot" should go.
She tweeted: "How much longer can this go on?
"If Johnson has merest scrap of concern for anyone but himself he will resign immediately.
"And then.. let's have an election to choose an alternative. For (Scotland) the permanent alternative is independence."
Labour leader Sir Keir Starmer told PMQs he was ready for a snap general election, and referred to the cabinet as a "Z-list cast of nodding dogs" before asking if was the first case of "sinking ships fleeing the rat".
The next general election is expected to be held in 2024 but could be earlier if Mr Johnson used his powers to call one.
Things are moving very quickly in Parliament. But there is a growing sense among Tory MPs that the prime minister won't be able to ride out this crisis.
A source close to the process has told me that if Boris Johnson doesn't go voluntarily, there will be another attempt to force him out through a confidence vote.
This isn't confirmed and clearly the PM's critics are trying to move against him.
But I'm told there's a meeting of the 1922 committee tonight where a change to the rules could be forced through - allowing another vote as soon as Monday.