Nicola Sturgeon to set out plan for second independence referendum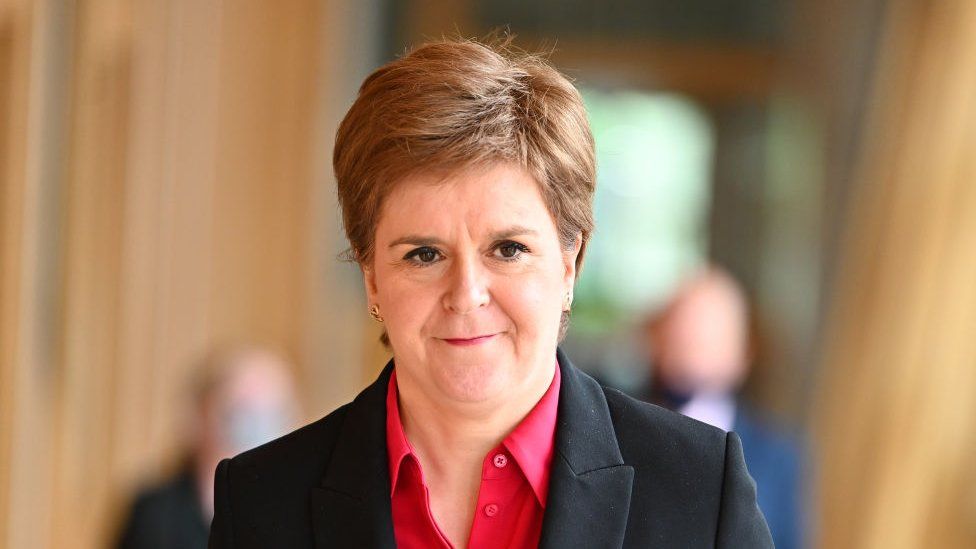 Nicola Sturgeon will explain later how she plans to hold a second referendum on Scottish independence.
The first minister will make a statement in the Scottish Parliament shortly after 14:00 BST.
She is expected to lay out her plan for holding a lawful vote in October next year, with or without the formal consent of UK ministers.
Prime Minister Boris Johnson said ahead of the statement that the UK was "stronger working together".
The UK government has held firm its view that "now is not the time" for another referendum.
In the 2014 referendum on Scottish independence, the "no" side won with 55% of the vote.
Ms Sturgeon claims that she has a democratic mandate for a referendum as independence-supporting parties - the SNP and the Scottish Greens - have a majority at Holyrood.
And she said the UK government's "continued efforts to thwart the will of the people" would weaken its standing at home and on the international stage.
Ms Sturgeon explained: "Bluntly, the UK government is in no position to lecture any other country about the need to respect democratic norms if it is intent on trying to thwart democracy at home.
"The UK is either a partnership of consent or it is not a partnership worthy of the name."
She added: "Westminster rule over Scotland cannot be based on anything other than a consented, voluntary partnership.
"It is time to give people the democratic choice they have voted for, and then with independence to build a more prosperous, fairer country in a true partnership of equals between Scotland and our friends in the rest of the UK."
The 2014 independence referendum went ahead after the UK government agreed to a section 30 order, allowing Holyrood to pass laws in areas normally reserved to Westminster.
UK minsters have said they would consider any request for a section 30 order but they have indicated they would be unlikely to grant the request.
Ahead of her statement to Holyrood later, Ms Sturgeon promised a "significant update" on how a "lawful" vote could be held without the UK government agreeing to the power transfer.
She has said her plan would show how the Scottish government intends to "forge a way forward, if necessary without a section 30 order".
It has led to speculation that she could be a preparing a "consultative" referendum on independence.
This could see proposals for people to be asked a different question to the 2014 referendum's "yes/no" on whether Scotland should become an independent country.
For example, voters could instead be asked if they believed the Scottish government should begin negotiations with the UK government on Scotland leaving the UK.
Some commentators believe this is less likely to be successfully blocked by the UK government through the courts
There have been suggestions that the pro-UK parties could boycott any referendum that was held without the consent of the UK government - which could potentially refuse to recognise the result.
He accused Ms Sturgeon of playing "games" when there were more important issues facing the country.
Boris Johnson said on Tuesday that the UK was stronger as a union.
He said: "We think the number one priority the country is facing is the economic pressure - the spikes in the cost of energy.
"Our plans for a stronger economy certainly means that we think we're stronger working together".
Meanwhile, Labour's Ian Murray, the shadow Scotland secretary, said: "This is a transparent attempt to whip up division and distract from the chaos engulfing the SNP.
"Nicola Sturgeon is in no position to lecture anyone about listening to the people of Scotland, as she ignores the cost of living crisis hanging over people's lives and ploughs ahead with a costly, unwanted and damaging referendum.
"The reality is the Tories and the SNP are working hand in hand to tear communities apart in a bid to distract from their own failures."
Plan A was to win a Holyrood majority for indyref2 and watch Westminster opposition crumble. That hasn't worked.
The SNP and Greens have their majority but it has not produced a referendum deal with the UK government and there's not one in prospect.
Plan B was to introduce a referendum bill at Holyrood anyway and fight any legal challenge in court. That's still possible.
It may be there is a further initiative but exactly what that is and whether it amounts to a plan C or not is not clear.
The details are being kept really tight. Nicola Sturgeon is only sharing details with her full Cabinet on Tuesday morning.
Ahead of her statement, she's warned UK ministers not to "thwart democracy" but the Conservatives accuse her of an "obsessive push" for an unwanted referendum.