Nicola Sturgeon defends pay of former Ferguson shipyard boss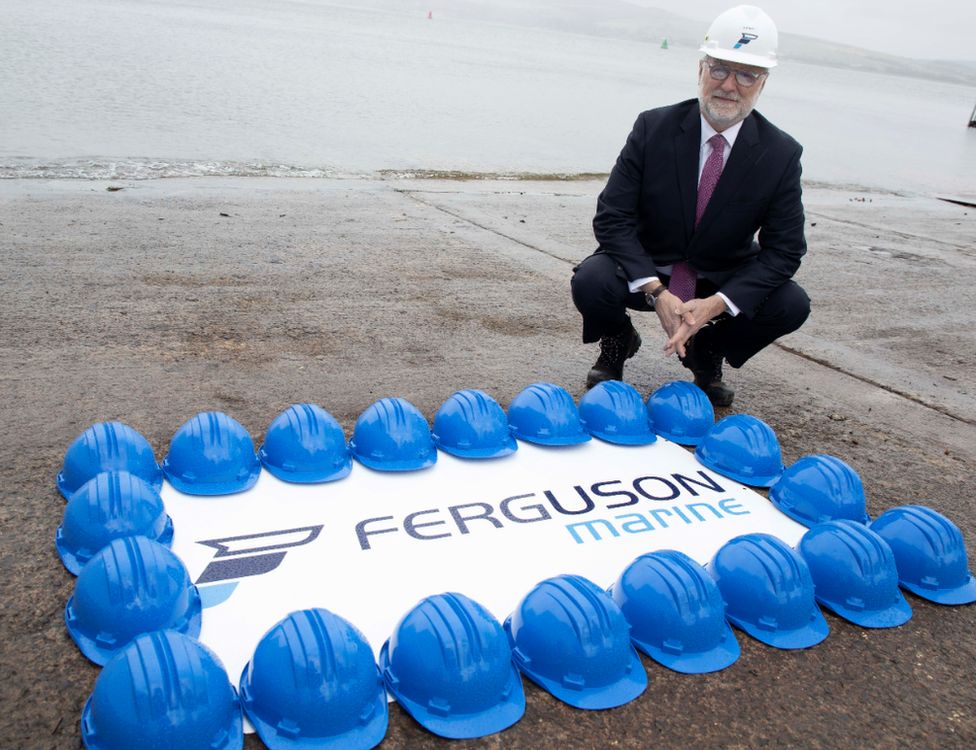 Nicola Sturgeon has defended the salary of the man brought in to turn around the troubled Ferguson shipyard despite delays to its ferry project.
Tim Hair was appointed turnaround director when the yard was nationalised in 2019, and had been paid £2m by the time he left earlier this year.
Scottish Labour said his daily rate was nearly £3,000 a day and asked the FM if she had been signing Lionel Messi.
Ms Sturgeon said Mr Hair's pay was in line with the market rate.
And she said the government's intervention had saved hundreds of jobs at Ferguson shipyard, and was focused on ensuring it has a bright future.
The long-running row over the ferries contract has escalated since an Audit Scotland report published last week highlighted how it was approved by ministers without normal financial safeguards being place.
Current estimates say the two new CalMac ferries will be completed five years late, and could cost more than £250m - compared to an original price of £97m.
Documents released under Freedom of Information laws suggested the initial cost of hiring Mr Hair for two to three months would be £2,850 per day "plus reasonable expenses".
Officials noted that they "can expect significant criticism of this remuneration package", but said it was within industry standards and that there was "extreme urgency" around filling the post.
In 2021 it was reported that Mr Hair's annual pay had been £790,000, including fees and expenses.
Scottish Labour leader Anas Sarwar questioned why the first minister thought it was right to pay Mr Hair a total of more than £2m - which he said meant Mr Hair "earned in just 11 days what the average Scot earns in a year".
Ms Sturgeon replied: "These decisions were taken in line with proper processes and procedures, and people paying the market rate - I don't set the market rate for what people are paid."
Mr Sarwar said this response was "shocking and out of touch" at a time when families were facing a cost of living crisis.
He added: "Market rate? £3,000 a day - were you signing Lionel Messi?
"Government advisers actually suggested Tim Hair needed a decent pay package so that life wasn't, and I quote, 'unnecessarily painful' for him while he swapped Hampshire for Port Glasgow."
Ms Sturgeon said the government would learn lessons from the row, but insisted the government had made the right move in nationalising the yard.
She said: "I don't think the experience of this contract has been acceptable in any way, shape or form. But the focus now under the new chief executive of the shipyard is to get the ferries completed in the interest of island communities and secure the future of the shipyard.
"We should not lose sight of the fact that but for government intervention this yard would no longer be open and nobody would be employed - right now there are more than 400 people employed in that shipyard and we intend to do everything we can to ensure it has a bright future."
He said his daily pay was benchmarked against the going rate, and was mid-range for a turnaround specialist.
When Mr Hair left the post in February 2022 - replaced as chief executive by David Tydeman - Ferguson Marine thanked him for his "leadership, expertise and commitment".
It said he had "implemented a series of important changes, systems and controls and built an experienced and skilled team to strengthen the business and establish a solid footing for growth".
Finance Secretary Kate Forbes also paid tribute to Mr Hair, saying he had "worked tirelessly to turn Fergusons around by ensuring the yard is fit for purpose, is working to complete the vessels and will win future contracts".
She added: "Tim Hair and his team have helped set Fergusons on that long-term path towards securing a sustainable future."