Covid in Scotland: Vaccine offered to children aged five to 11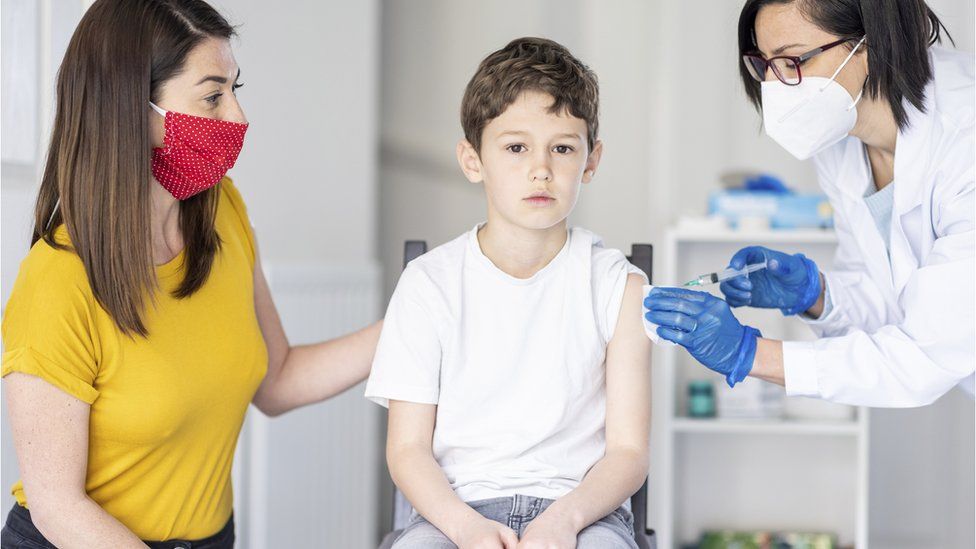 Children between the ages of five and 11 in Scotland are to be offered a Covid-19 vaccine after the government accepted a draft ruling from advisers.
The UK's Joint Committee for Vaccination and Immunisation (JCVI) officially backed the rollout of jabs to youngsters on Wednesday afternoon.
But the Scottish and Welsh governments had already announced they would go ahead, having seen draft guidance.
Plans are being put in place with health boards to deliver the vaccines.
The move does not affect children who are already being vaccinated due to medical conditions which place them at greater risk from the virus.
First Minister Nicola Sturgeon said parents and carers of five to 11-year-olds "need not do anything" and more information would be announced when plans are finalised.
The JCVI - an independent panel which advises governments across the UK - confirmed on Wednesday that vaccination of children should go ahead.
Young people are at a much lower risk of becoming seriously ill from Covid, and many already have some protection from having caught the virus previously.
However, the group's scientists concluded that vaccination should be approved to protect a "very small number of children from serious illness and hospitalisation" in a future outbreak.
And the Scottish government followed on Wednesday morning by announcing that ministers had seen the advice and were "content to accept it".
Ms Sturgeon said: "Throughout the pandemic it has been our intention that we follow the clinical and scientific evidence. I'd like to once again thank the JCVI for their hard work in scrutinising the science and providing clear guidance.
"Discussions with health boards on the best way of delivering vaccinations to five to 11-year-olds have already begun - these will continue and we will provide further information when this approach is finalised."
There had been reports that the committee's announcement was delayed due to a disagreement with the UK government.
Health Secretary Sajid Javid said the offer in England would be "non-urgent", with an emphasis on parental choice.
Jillian Evans, head of health intelligence at NHS Grampian, welcomed the move as "ending weeks and months of confusion for families".
She told BBC Radio's Lunchtime Live programme: "I wish it had happened earlier. But we are where we are, it's better late than never and it will provide protection for children and their families and the wider community as we go into the spring and summer months.
"It won't do much to change the disruption that many schools have experienced since going back after the Christmas holidays, but it will do a lot for future disruption."
The EIS teaching union also welcomed the move, with general secretary Larry Flanagan saying it would "help to make our schools safer for pupils and staff".
Earlier on Wednesday, Deputy First Minister John Swinney warned that the pandemic was "still a significant threat to public life" in Scotland.
The Scottish government is to set out its future plans for dealing with the virus on 22 February, but Mr Swinney cautioned that Covid "has not disappeared".
Mr Swinney said: "Fundamentally the government has got to have in place a legal framework that allows us to act.
"Covid has not gone away, it has not disappeared, it has not ended, and anyone who puts that argument around is just misleading people.
"Covid is still out there, it's still a significant threat to public health. We've got to proceed with care but we've also got to apply the proportionate test at all times.
"That's what the Scottish government looks at in all circumstances to make sure the measures we have are proportionate and appropriate."
MSPs will have a debate and vote on the government's "strategic framework", giving opposition parties the chance to set out their own proposals.
The Scottish Conservatives have urged the government to put "trusting the public" at the heart of its approach in future.
The party wants to see the Test and Protect contact tracing system replaced with a cheaper, more targeted "representative sampling" system to track infection levels.
Scottish Labour meanwhile wants to prioritise vaccination while building resilience in the testing and tracing system and the NHS.
They also want to establish a "pandemic risk framework" which agrees in advance what measures would be brought back should case numbers rise again.
Please include a contact number if you are willing to speak to a BBC journalist. You can also contact us in the following ways:
Or use this form to get in touch:
If you are reading this page and can't see the form you will need to visit the mobile version of the BBC website to submit your comment or send it via email to HaveYourSay@bbc.co.uk. Please include your name, age and location with any comment you send in.