Calls for contact tracing system to be wound up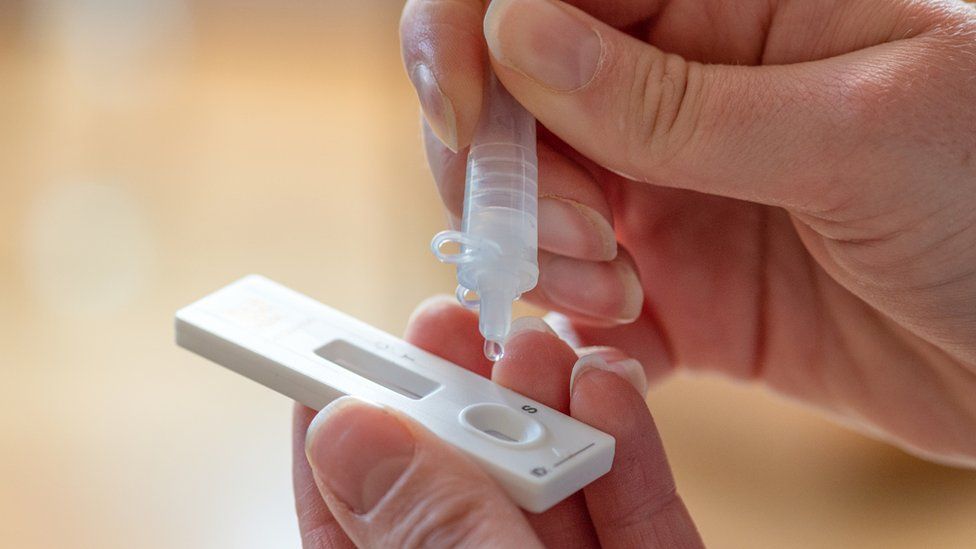 The Scottish Conservatives have called for the country's Covid-19 contact tracing system to be wound up.
The Tories said Test and Protect had been "incredibly useful" in the early stages of the pandemic, but had become "increasingly redundant" of late.
They want it replaced with a much cheaper sampling system, with remaining funds redistributed around the NHS.
But First Minister Nicola Sturgeon said contact tracing remained a key tool in keeping the virus under control.
She told MSPs that the government would "think quite fundamentally" about future approaches, but that testing remained crucial in the immediacy.
Scottish Labour has also backed continued use of testing and contact tracing, with extra capacity built into the system.
The Scottish government has committed funding to keep Test and Protect in place until September, and wants lateral flow tests to continue to be available free of charge.
People are still encouraged to take a test before meeting up with people from other households, but ministers are drawing up longer-term plans for how to "live with the virus" in a less restrictive way.
In a new paper, the Scottish Conservatives advocated a "more targeted" approach to the pandemic, with emphasis on protecting the most vulnerable while "trusting the public" with other measures.
The party has called for mass contact tracing to be phased out and replaced with "representative sampling" to keep track of infection levels in the community.
The Tories claimed the performance of the system "declined rapidly" during the Omicron outbreak, with many people still only being contacted by text message.
Health spokesman Dr Sandesh Gulhane said Test and Protect had been "incredibly useful in the earlier stages of the pandemic", but said it "has become increasingly redundant in recent months".
He added: "We are nearing the point where Test and Protect is no longer an effective use of scarce NHS resources. As we start to move beyond the pandemic, our approach must adapt to fit the new situation."
Ms Sturgeon told MSPs on Tuesday that the government would "think carefully about the medium to long-term approach", but that testing remained important for now.
A new "strategic framework" is to be published after Holyrood's February recess detailing how the virus will be managed in the remaining phases of the pandemic, with Ms Sturgeon saying it would take a "fundamental" look at future plans.
She said: "There is a temptation to say that now Covid is more under control we should lift all the basic protections, but in actual fact it's some of those basic protections that have helped us get it under control and which will help us keep it under control.
"That is true of Test and Protect. Of course there are decisions to be taken about it for the longer term, but right now contact tracing and the universal testing offer is a key way in which we are helping keep infection under control, and crucially to help give additional assurance to those who are most vulnerable."
The Conservatives have also called for an end to the use of face coverings in secondary school classrooms, and Ms Sturgeon said officials would meet to consider the situation again on Tuesday afternoon.
She said any decisions would be confirmed "as quickly as possible and in advance of the return to school after the February break".
Scottish Labour has also set out a blueprint for "living well with Covid", in which it backed the Test and Protect system.
The party said the testing and tracing system had too often been "beset by shortages, slow turnarounds or been overwhelmed by the volume of cases".
However, Labour said Test and Protect could be used to support a safe return to normal life, calling for surge capacity built in so it can "keep pace with infections, monitor the spread, and notify close contacts within the recommended 72 hours".