Covid in Scotland: Another record high number of infections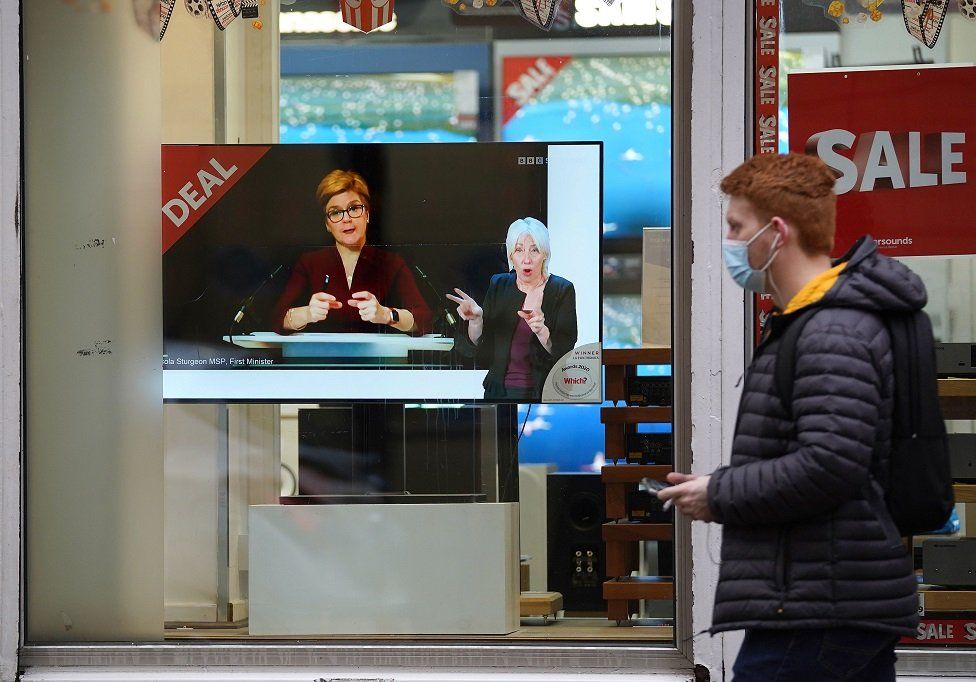 A further 15,849 people have tested positive for Covid-19 in Scotland, by far the highest daily case number of the pandemic so far.
First Minister Nicola Sturgeon said the Omicron variant was spreading "rapidly" and now accounts for 80% of all cases.
She said further "steep increases" in infections are expected in the coming days and weeks.
However, no changes are to be made to restrictions in Scotland, with curbs expected to remain until 17 January.
Ms Sturgeon also said a decision about whether to reduce the 10-day self-isolation period would be made in the coming week.
The daily infections record has been repeatedly broken in recent days as the faster-spreading Omicron variant takes hold in Scotland.
Ms Sturgeon said 28.9% of all tests carried out on Tuesday were positive, adding up to 15,849 cases - "by some margin the highest overall daily case number reported in the pandemic to date".
The number of people in hospital with the virus increased by 80 to 679 - the highest since the start of December - with 36 in intensive care.
The first minister said hospital figures were "broadly stable", but said the government must "exercise caution" given the time lag between rising case numbers and hospital admissions.
She said the coming weeks would produce a "clearer picture" about the impact of Omicron, and that it was "essential that we slow transmission as much as possible" in the meantime.
Scots have been asked to stay at home as much as possible in the coming weeks, and to socialise in groups of no more than three households.
Large events have been cancelled and fresh restrictions placed on hospitality venues, with nightclubs closed entirely.
Ms Sturgeon said these curbs were expected to continue until 17 January, and announced details of how £375m of financial support for businesses will be allocated.
This includes £32m for hospitality and leisure firms, a further £10m for businesses "most severely impacted by the requirement for table services", £5m for nightclubs, and £17m for the events sector.
Talks are also being held with the sports sector about the impact of the restrictions on large events like football matches.
Ms Sturgeon said: "There simply isn't an easy trade-off between protecting health and protecting the economy.
"If Covid continues to spread rapidly, the economic impact in the form of staff absences and diminished consumer confidence will be severe. We're already seeing those impacts. So doing nothing won't help business."
The data is jumping around a bit just now - in part because of reporting delays over Christmas but also strains in the system as more people come forward for tests.
Almost 16,000 daily positive cases is probably in tune with the central estimates of modellers but we could still see a sharp rise over the next few days as the data starts to catch up. It may be that the worst-case scenario has been avoided because people have adapted their behaviour even before restrictions were brought in.
For the first time in five days there is information on the numbers of people in hospital with Covid. It shows a small rise, but not a huge spike. Good news, but remember the early Omicron cases would largely be in young people who are less likely to become severely ill. We are still to see the impact of mixing across generations over Christmas.
Early data from London, which is a little ahead of the rest of UK, show hospital admissions with Omicron are lower - even in older age groups - and that the number of people needing intensive care is even less. It also appears that many cases are incidental, with patients admitted for something else and then testing positive.
But the experts continue to warn that even if Omicron is milder, a small proportion of a large number has the potential to cause major disruption for the NHS. Health and social care staff are exempt from 10-day isolation if they have a negative PCR test, but staff absences remain high, and it only takes a small increase in Covid patients for other care to be put on hold.
We still don't know when the peak of this wave will hit, and how good boosters will be at protecting the most vulnerable. Scientists will say it is still too early to draw any firm conclusions from the data.
Ms Sturgeon also said ministers were "weighing the risks and benefits" of shortening the isolation period for Covid patients.
The first minister said consideration was being given to matching this, and to potentially easing the requirement for household contacts to isolate - something which is not required in England for double-vaccinated household contacts.
She said any decision would be made in the coming week, and come into effect from 5 January.
The Scottish Conservatives have repeatedly called for the rules to be changed, saying they are causing staff shortages for key services.
A total of 3,316 NHS staff were absent in the week to 28 December for Covid-related reasons, the highest level of absences since March and close to double the 1,771 recorded at the end of November.
At Holyrood, Tory leader Douglas Ross called for immediate action, saying that "the first minister's message on these essential changes is yet again to tune in next week".
He said: "Staff absences are spiking now, and that is having knock on effects on our services and industries."
Ms Sturgeon said the decision was "finely balanced", saying that easing quarantine rules prematurely could actually increase pressure on the economy by spreading the virus faster.