Sturgeon warns of 'rapid' rise in Omicron cases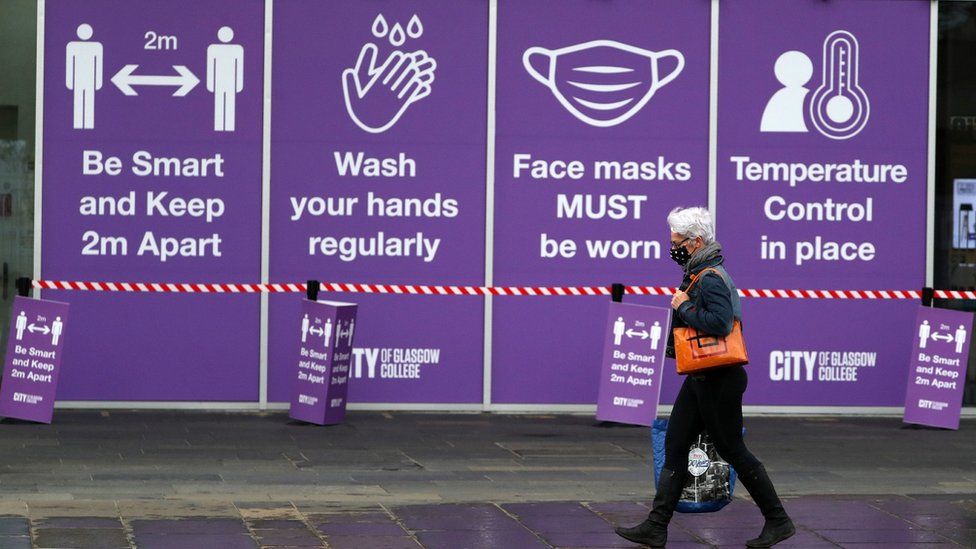 Scotland's Covid-19 restrictions are to be reviewed on a daily basis due to a rapid increase in cases of the Omicron variant, Nicola Sturgeon has said.
A total of 99 cases of Omicron have now been detected in Scotland - a tenfold increase in the space of a week.
The first minister said she expected the number to continue to increase, and for the new variant to "account for a rising share of overall cases".
She said the emergence of Omicron was a "significant challenge for all of us".
Travel rules have already been tightened, and Ms Sturgeon said she would consider on a daily basis whether other measures - such as the extended use of Covid passports - were needed.
The overall number of Covid cases in Scotland has increased in the past week to around 2,800 new cases per day, having fallen in the previous fortnight.
The bulk of the new cases have been among people aged under 60, which Ms Sturgeon said was "encouraging" and proof of the success of booster vaccines.
The number of people in hospitals and intensive care wards with Covid has also fallen over the past week.
But Ms Sturgeon told MSPs that the emergence of the Omicron variant was an "additional and very significant cause for concern".
Cases have been reported in nine of Scotland's 14 health board areas, with fears of widespread community transmission.
Ms Sturgeon said: "I would expect to see a continued and potentially rapid rise in cases in the days ahead, and for Omicron to account for a rising share of overall cases."
The first minister also said early data suggested that Omicron was more transmissible than the currently dominant Delta variant - "perhaps significantly so" - and could be more capable of re-infecting people who have previously had Covid.
She said this had the potential to put very intense additional pressure on the health service over the winter.
The government is to review restrictions on a daily basis, with Ms Sturgeon urging people to get vaccinated and to up their compliance with existing measures.
She also said employers should ensure that all staff who can work from home are able to, saying this should continue until at least the middle of January.
She said: "Let's all pull together, do what is necessary, and get each other and the country through this winter and into what we all hope will be a better and brighter spring."
This is a holding statement, more notable for a change in tone rather than any pre-Christmas change in regulations.
While the first minister still hopes new restrictions can be avoided she offers no guarantees this will be the case.
Nicola Sturgeon has urged tighter compliance with existing rules and made clear the need for additional protections will be kept under daily review.
She also signalled that extending the use of Covid passports remains an option for the Scottish government.
It is clear that ministers are becoming increasingly concerned about the spread of the Omicron variant, with case numbers apparently doubling every two to three days.
Because it is spreading faster than previous versions of Covid and may have some vaccine resistance, they worry that it could quickly put the NHS under severe strain.
Opposition leaders said the government could be doing more to tackle the "huge challenges" facing the NHS.
Scottish Conservative leader Douglas Ross said ministers had "failed to do enough to prevent this crisis escalating when hundreds of patients are left waiting more than half a day to be seen in our hospitals".
And Labour's Anas Sarwar said there were thousands of vacancies within the NHS, with people still waiting for postponed operations and specialist treatment.
Ms Sturgeon said said NHS staffing was at record levels, and that her government would continue to work to support services to recover from the pandemic.