Nicola Sturgeon: Indyref2 timetable is realistic despite Covid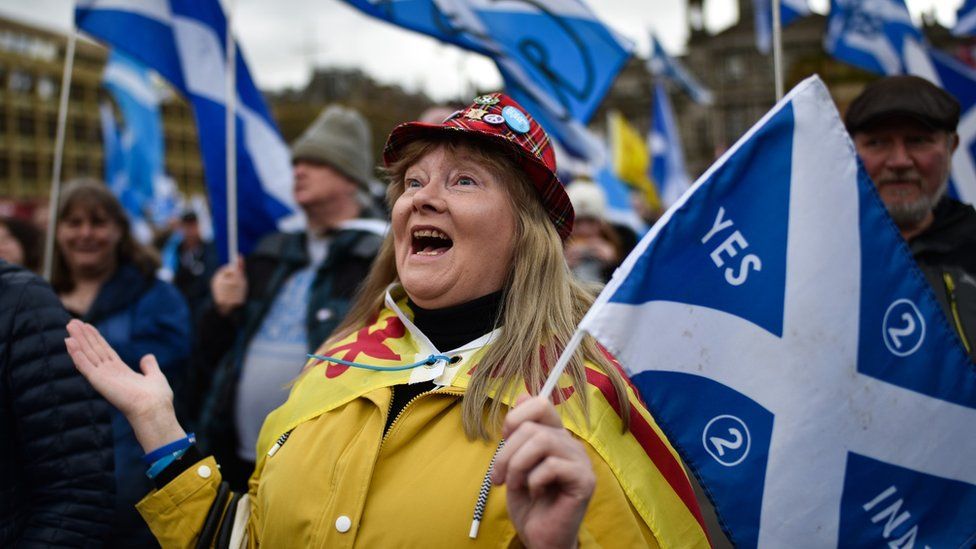 Scotland's first minister has said that holding an independence referendum in the next two years is realistic despite Covid making "everything harder".
Nicola Sturgeon announced this week that her government was resuming work on its plans to hold indyref2 by the end of 2023.
She told the BBC it was important not to underplay the challenges caused by the pandemic.
But she said remaining in the UK would not "magic away" those difficulties.
The first minister said that regardless of whether or not Scotland becomes independent, the next few years would be difficult for Scotland - as it will for the UK and countries across the world.
Asked about the financial case for independence, and whether setting up a new country after the pandemic would be harder, she replied: "I think everything is harder after the pandemic.
"There are always challenges, big challenges, and I think it's important we do not underplay them.
"Everything has become harder, but the point I'm making is if we decide not to become independent and stay in the UK that doesn't magic away these difficulties and challenges."
The SNP leader was speaking as her party's four-day virtual conference - which was postponed earlier in the year - got under way, with her speech due on Monday.
She said the Scottish government would have a "small team" of civil servants working on its preparations for a possible referendum.
The UK government has said it intends to block indyref2, but Ms Sturgeon said it was realistic to plan for one by the end of 2023.
While she said Covid "continued to be the priority", the SNP leader argued it was right that the country's future would be "decided by people in Scotland" once the crisis is over.
Ms Sturgeon said that decision should be "an informed one".
She said that regardless of whether or not Scotland becomes independent, the next few years would be difficult for Scotland - as it will for the UK and countries across the world - as it recovers from the pandemic.
She said there were "big decisions" to be taken as Scotland emerges from the pandemic about what kind of country, society and economy it wants to be.
This weekend's SNP conference will see the party recommit to another referendum - Nicola Sturgeon wants it by the end of 2023.
But it's impossible to say with certainty that will happen. The UK government isn't budging - and the pro-independence side are still working on their updated case for a post-Brexit, post-Covid vision.
Nicola Sturgeon told me that the Scottish government team working on independence would be small - and consist of civil servants already focused on intergovernmental issues.
She doesn't want it to look like taxpayer-funded staff are being taken away from Covid - but some in the SNP want the government to move much faster.
Then there's the case for independence itself. Ms Sturgeon admits that the financial arguments for independence have been harder by the pandemic. Scotland's deficit doubled in the latest figures.
She still believes Scotland should control its recovery - but it's a sign of the challenge ahead for her side of the independence debate. That challenge becomes all the more acute if there's just two years to provide the answers.
Ms Sturgeon added: "Every country is facing those, so for Scotland it's about who drives those decisions and what values guide those decisions.
"Is it Boris Johnson and his government or is it the government we elect here in Scotland? That is the fundamental issue."
The UK government has repeatedly dismissed calls for a fresh vote on independence, saying that such referendums should be once in a generation and that the current priority was to recover from Covid.
In her interview, Ms Sturgeon also said that Scotland's NHS was under more pressure now than ever before due the recent surge in the number of Covid cases.
And she said the controversial new vaccine passport rules, which are due to come into force on 1 October and will only allow fully vaccinated people to go into nightclubs and many other major events, were not a "magic wand".
Ms Sturgeon said the passports would instead be a measure that might "help tip the balance that will allow events to go ahead, nightclubs to stay open, when otherwise we may as we go into the winter face difficult choices about closing them".
The Scottish Conservatives have described the vaccine passport scheme as "a shambles waiting to happen".
And the party's constitution spokesman, Donald Cameron, said the economic case for independence "has never been weaker".
"The pandemic has shown the strength of being part of our UK during a time of crisis," he said.
"The SNP/Green government's full focus should be on our recovery from Covid. No vital resources should be diverted by this nationalist coalition of chaos away from tackling the true priorities of the people of Scotland."