MSPs to vote on Scottish vaccine passport scheme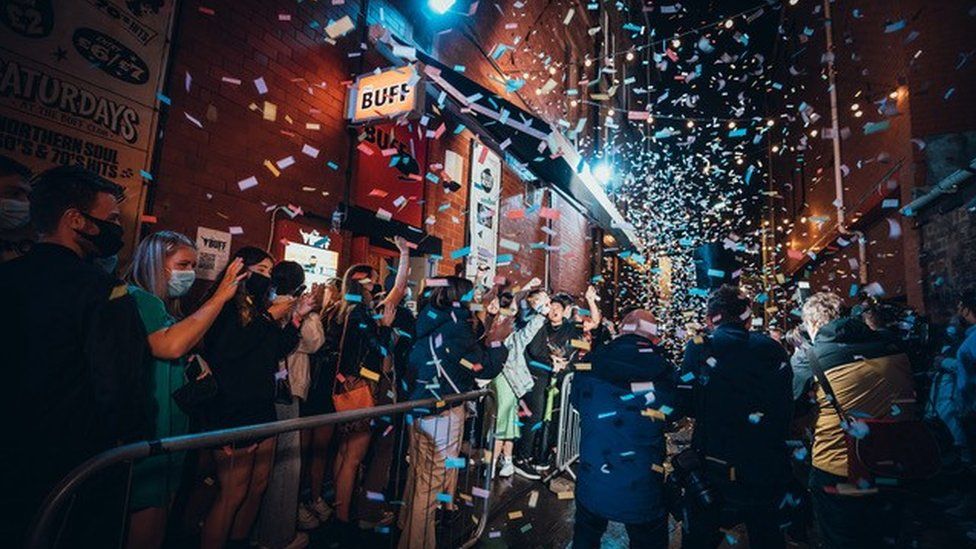 MSPs are to vote on controversial plans to introduce a vaccine passport scheme in Scotland.
The move will mean that only people who have been fully vaccinated will be allowed into nightclubs, major sporting events and many concerts and festivals.
The Scottish government says the plan is designed to allow large events to go ahead as safely as possible.
It says the government is still "working with stakeholders to finalise a definition" of what is and is not a nightclub - which has been one of the key concerns of the licensed trade.
Opposition parties and some of the businesses that will be affected have questioned how the scheme will work in practice, and have complained of a lack of detail from the government.
The Conservatives, Labour and the Liberal Democrats have already vowed to vote against the plans - with the Conservatives describing it as "shambolic, last-minute, kneejerk decision making".
The Scottish Greens have been highly critical of vaccine passports in the past - as have some senior Scottish government ministers - but have since signed a formal partnership agreement with the SNP and are thought to be unlikely to vote against the scheme.
This would give the government enough votes in the Scottish Parliament to pass the new rules.
Assuming the proposals are approved by Holyrood, the passport scheme is expected to come into force from 1 October, once all adults in Scotland have had the chance to be fully vaccinated.
Leon Thompson, of the trade body UK Hospitality Scotland, told BBC Radio's Good Morning Scotland programme that his members were "very concerned" about a lack of detail on how the passports would work.
He said: "There's been some very rushed and hurried conversations with officials over the last few days but we still have no real information on how the Scottish government will introduce the scheme."
Mr Thompson said there was real difficulty in defining what counted as a nightclub and added that he had seen no evidence from the Scottish government that this was going to make a difference to infection rates.
The Scottish Professional Football League (SPFL) has also raised concerns about how the scheme will impact on its clubs.
And some people who had one of their vaccine doses outside of Scotland have experienced problems in getting an accurate vaccination certificate.
The new rules will mean people over the age of 18 will need to show they have had both doses of the vaccine before they are allowed entry to:
Nightclubs and adult entertainment venues.
Unseated indoor live events, with more than 500 people in the audience.
Unseated outdoor live events, with more than 4,000 people in the audience.
Any event, of any nature, which has more than 10,000 people in attendance.
People who have had two vaccines in Scotland can already download or get a paper copy of a certificate with a QR code.
By the end of the month, it is expected that this code will also be available on a new NHS Scotland Status app.
These codes can be scanned at a venue to confirm the user is fully vaccinated.
Anyone who has good reasons for not getting fully vaccinated - including children and people with particular medical conditions - will be exempt.
Similar schemes are already in operation in other European countries, while people in England will need to have a "Covid pass" to access "higher risk" settings such as nightclubs from the end of this month.
A major goal of the scheme is to encourage more younger people to be vaccinated - with the latest figures showing that uptake among those under the age of 40 in Scotland has been lower than older age groups.
The number of people in hospital and intensive care units has also been steadily rising, with health professionals warning that that NHS is coming under increasing strain.
First Minister Nicola Sturgeon has said that vaccine passports will be a direct alternative to imposing tougher restrictions on venues, many of which have only recently reopened.
She told the Scottish Parliament on Wednesday that certification was a "reasonable response to a very difficult situation, and much more proportionate than any likely alternatives".
Scottish Labour leader Anas Sarwar said at the weekend that his party would vote against the scheme, which he has described as an attempt by the government to "look in control of a virus that is clearly out of control."
He said there was a chance that using vaccine passports might actually entrench vaccine hesitancy rather than encourage uptake, and argued that the government should be focusing on ramping up the vaccine rollout and improving Test and Protect rather than creating a new system.
Conservative leader Douglas Ross confirmed on Thursday morning that his party would also vote against vaccine passports, adding: "There are still no answers to any of the key questions on infrastructure, administration, fraud, enforcement and data concerns."