Scottish Greens back historic government deal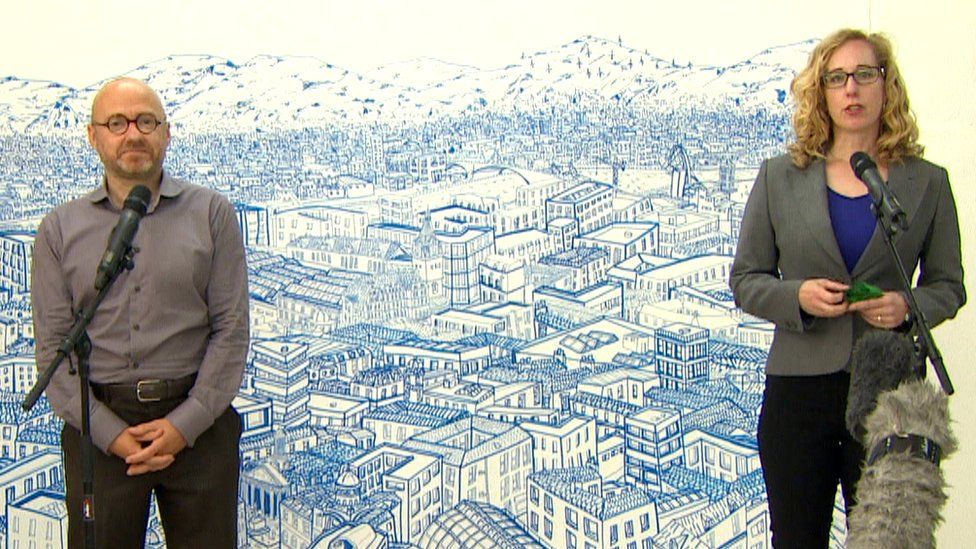 Members of the Scottish Greens have backed a deal that will see its leaders in government for the first time.
With some proxy votes still to be counted, 83% of members who took part in an extraordinary general meeting were in favour.
The deal, which required a two-thirds majority of the party's National Council, was then formally ratified.
Co-leaders Patrick Harvie and Lorna Slater said it promoted "a sustainable Scotland that works for everyone".
The pair will become government ministers under the power-sharing deal, with the Greens required to back the Scottish government in confidence votes and annual budgets as they work on a raft of agreed policy areas, including tackling the climate emergency, Scottish independence and rent controls.
Public disagreement between the parties will only be allowed on a set of agreed topics.
These include aviation policy, green ports, direct financial support to businesses involved in the aerospace, defence and security sectors, field sports and the economic principles related to concepts of sustainable growth and inclusive growth.
However, speaking during the EGM, Scottish Green MSP Ross Greer insisted that the list of subjects could be changed if further agreements or disagreements emerge.
Before this vote, Green leaders were anxious not to take membership support for granted - there are, after all, some radical elements in the party and there is more than a hint of anarchism too.
In the end, the lure of power proved highly persuasive. The co-operation agreement was emphatically endorsed by ordinary Greens and by the party's National Council, as it was in a separate ballot of SNP members.
That means that Nicola Sturgeon can now formally appoint Patrick Harvie and Lorna Slater as ministers in the Scottish government and seek Holyrood's approval when MSPs return from their summer break next week.
The outcome of that and most other parliamentary votes is now a foregone conclusion because one of the key features of an SNP-Green government is that it will have a built-in majority for what they've agreed, including an indyref2 bill.
There are of course a range of policies including the desirability of economic growth, aviation, field sports and private schools that sit outside their agreement.
These topics and the compromises reached over road building and oil and gas extraction could be the source of future tension between the power-sharing partners.
The co-leaders insisted the agreement will be good for Scotland, the country's efforts to tackle the climate crisis and contains "transformational" policies such as implementing rent controls.
Ms Slater, the newly-elected Lothian MSP, said the members' overwhelming support would give the party "the tools we need to tackle the climate crisis and implement transformative politics in Scotland".
She told BBC Scotland: "With the Scottish Greens at the heart of government, we will see some real changes. Things like rent controls will be transformative for people in Scotland.
"We can also accelerate the development of our renewable energy industry, which will create thousands of jobs as well as tackle the climate crisis."
Why did Green activists vote the way they did?
James Puchowski, co-convener of the Green Nation Council, believes the deal offers the chance to have a real influence on government policy.
"They're weighing up some things that I don't think three or four years ago we'd ever had a chance of getting - which is basically getting ministers inside Scottish government and maintaining opposition in the background."
Party member Rosie Smith backs the deal, but is worried it could backfire for the Greens.
"When I first saw it, especially the rent control section, it kind of felt a little bit like Christmas. What worries me about it is just hesitancy to enter coalitions having seen how badly it can go elsewhere in the UK."
Chas Booth, a Green councillor in Edinburgh, voted against the deal. He wasn't against a deal in principle, but felt this agreement didn't do enough to protect local services after years of cuts.
"I didn't see enough in this deal that would protect local councils and local services like leisure services, parks and stuff like - and that's why I voted against it.
"I accept there's an awful lot of stuff in here that is really good policy - on active travel, on equal rights, on energy efficiency in our hands - but I felt that gap on local authorities and local services is something that Greens shouldn't support."
Ms Slater cited oil and gas extraction policies as an area of disagreement between the Scottish Greens and SNP, but added: "I am very hopeful and optimistic about the change of travel that we've seen.
"When the first minister wrote to Boris Johnson the other week and asked him to reconsider the Cambo oil field, that was a significant change of direction for the Scottish government whose previous position was maximum economic extraction.
"Having Greens around has even turned the dial of that far, and I know that, by having Greens in government, we can continue to push that dial around and really tackle the climate crisis."
Mr Harvie, who has spent 18 years in opposition at Holyrood, said it felt "incredibly exciting" to be on the brink of government.
He said: "I am delighted that our party members have given their support to this historic co-operation agreement that will see Greens enter government for the first time in Scotland, or indeed anywhere in the UK.
"With Greens in government we will be able to deliver positive change for the people of Scotland."
First Minister Nicola Sturgeon said she was "delighted" that members of both parties had agreed to work together.
She said: "This historic agreement will provide a strong platform for the transformative programme we want to deliver.
"We will work collaboratively to support a fair recovery from Covid, address with urgency the impacts of the climate emergency, and give the people of Scotland a vote on independence."
Scottish Conservative chief whip, Stephen Kerr, said the SNP/Green deal would be "devastating for workers and our economic recovery".
He said: "The SNP and Greens will put their obsession with a divisive referendum ahead of what is best for Scotland.
"Nicola Sturgeon failed to win a majority in May's election and now has had to cut a deal with a radical anti-jobs party, solely to ramp up her campaign for independence."
Scottish Labour leader Anas Sarwar said the deal proved the Green party was "in many ways a branch office of the SNP".
He said: "The Green party over the course of the last parliament voted through big cuts to local government budgets and voted against a pay rise for care workers.
"This is a deal that is not about the environment, it's about the independence agenda.
"It's not about building transparency and accountability of the government. It's about control for Nicola Sturgeon and the SNP so that they can largely ignore parliament. And I think that is really unfortunate for our democracy."