Face-to-face GP appointments 'key' to NHS Recovery Plan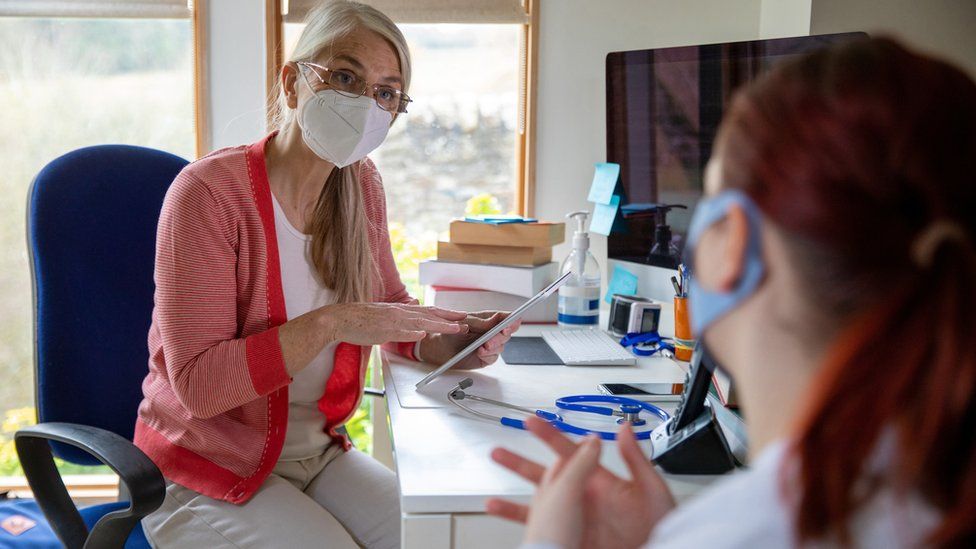 Face-to-face consultations with GPs will be restored "as quickly and safely as possible" as part of the Scottish government's £1bn NHS Recovery Plan.
The move will be one of the "key actions" for the next five years to tackle backlogs in healthcare.
Capacity will be increased by 10% to help recover from the impact of the Covid-19 pandemic, the government said.
However, the Scottish Conservatives called the blueprint an "embarrassingly thin, flimsy pamphlet".
The plan includes more than 40,000 additional elective surgeries and procedures carried out each year.
The number of GPs across Scotland will also be increased by 800. There will also be a focus on the health and wellbeing of NHS staff.
While the number of Covid patients has fallen, the NHS is trying to catch up with surgeries and treatments put on hold during the first wave of the pandemic.
First Minister Nicola Sturgeon and Health Secretary Humza Yousaf launched the recovery plan during a visit to the new national Centre for Sustainable Delivery (CfSD) at the Golden Jubilee Hospital in Clydebank.
Its key actions will include:
Increasing investment in National Treatment Centres (NTCs) to more than £400m
Raising primary care investment by 25%, supporting GPs, community pharmacists, dentists and optometrists
£29m to target diagnostic backlogs, providing 78,000 additional procedures in 2021-22 and rising to 90,000 per year from 2025-26
£8m to support the mental health and wellbeing of the health and care workforce
£11m in recruitment campaigns to produce an additional 1,500 staff for NTCs over the next five years
1,000 more mental health link workers in communities, 800 more GPs and boosting paramedic numbers through the £10,000 Paramedic Bursary
£23m to redesign urgent care - with rapid access to a senior clinician via a telephone or video consultation where possible
£130m to deliver a National Cancer Plan and Detect Cancer Early Programme
At least 10% of frontline health spending dedicated to mental health
Recruiting 320 additional Child and Adolescent Mental Health Services (CAMHS) workers
Ms Sturgeon said the plan would "drive the recovery of our NHS, not just to its pre-pandemic level but beyond".
She added: "As we maintain our resilience against Covid-19 and other pressures, the Scottish government is providing targeted investment to increase capacity, reform the system and ultimately get everyone the treatment they need as quickly as possible.
"Tackling the backlog of care is essential and will be a priority. But we want to go further than that and deliver an NHS that is innovative, sustainable and stronger than ever before."
But Tory health spokeswoman, Annie Wells, accused the government of producing a plan "regurgitated from previous announcements and manifestos".
She added: "The SNP have shamefully walked back a key election pledge. They've tried to quietly abandon a commitment to remobilise the NHS.
"There is not a single mention of Long Covid. There's no new funding for A&E, despite waiting times hitting their worst level in six years, and nothing new to tackle alcohol and drug deaths, which have both hit record highs.
"The few good points are obscured by the litany of recycled pledges and oversights."
Labour's Jackie Baillie said the recovery plan was "as underwhelming as it was overdue".
She added: "Frankly, this plan does not even begin to chart a path to the full re-mobilisation of our NHS. And targets promised before the election have disappeared from the plan.
"Most disappointing of all is that the SNP has entirely failed to comprehend the size of the NHS backlog.
"In this plan, the majority of the new National Treatment Centres will not be opened until the second half of the parliament.
"This is simply not good enough."
Analysis: Staff recruitment is a big challenge
By Susie Forrest, Scotland health producer, BBC News
Scotland's hospitals have been reporting their worst performance against targets for many years, in the wake of the pandemic.
Last week nearly a quarter of patients waited more than four hours to be looked after in A&E. And that's just one symptom of an NHS under immense pressure.
At last count, nearly 95,000 patients were waiting to be admitted for planned treatment - with nearly a third spending more than a year on the waiting list, many living all those months in pain. Delays in diagnostic testing have put some patients' survival at risk.
And several health boards are still only able to treat the most urgent cases.
Clinicians say they're uncertain about how the backlog can be cleared, with shortages in many key specialisms, and unions warning that more doctors and nurses could leave the NHS if they don't get the right support.
So recruiting and training the right staff will be one of the biggest challenges in meeting the aims of the Recovery Plan. More detail about how this might be achieved is promised later in the year.
Willie Duffy, the head of health for the Unison union, said the government needed to take "a cautious approach" in trying to get the NHS system back to normal.
He said there was already enormous pressure on services because of staffing shortages and that there were 2,000 nursing vacancies even before the pandemic hit.
He told the BBC's Good Morning Scotland programme: "As staff have worked tirelessly during the pandemic, there have been huge issues with staffing levels.
"Indeed, a couple of weeks ago a couple of health boards had to move patients because of a lack of staff.
"So any plans that come out need to focus on not just the patients, but how staff are able to react."
Related Internet Links
The BBC is not responsible for the content of external sites.