Patrick Harvie and Lorna Slater: Who are the new Green ministers?
By Philip Sim
BBC Scotland political reporter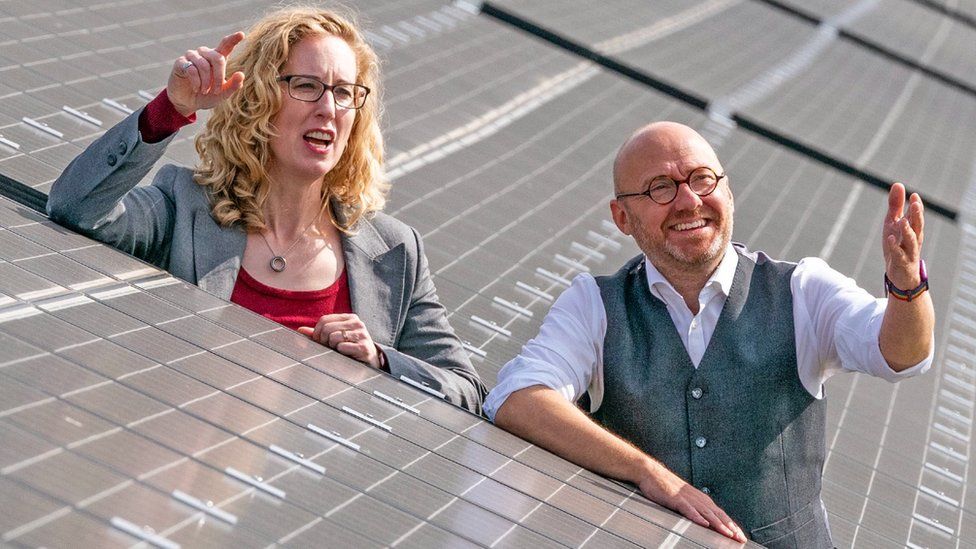 Scottish Green co-leaders Patrick Harvie and Lorna Slater are to become the first Green politicians to enter government in the UK as part of their party's power-sharing deal with the SNP.
First Minister Nicola Sturgeon has appointed Mr Harvie to a role focused on low-carbon housing, while Ms Slater is to work on green jobs.
Who are the Green MSPs, and what will their roles be in the Scottish government?
Patrick Harvie has been a familiar face at Holyrood for almost 20 years, and has been involved in politics even longer.
After studying at Manchester Metropolitan University - where he was briefly a member of the Labour Party - Mr Harvie worked for a sexual health awareness organisation, which led him into equalities campaigning.
He was elected as an MSP on the Glasgow regional list in 2003 - becoming Scotland's first openly bisexual MSP - and ran unopposed to become co-convener of the Scottish Greens in 2008 after Robin Harper's departure.
After another SNP-Green co-operation deal in 2007, he was appointed convener of Holyrood's transport, infrastructure and climate change committee.
In parliament, he has campaigned on the environment and a range of issues including civil liberties, homelessness, land use and the planning system.
As a long-time supporter of Scottish independence, he was part of the Yes Scotland board in the build-up to the 2014 referendum and campaigned alongside the likes of Nicola Sturgeon.
Mr Harvie is also a republican who believes the Queen should be replaced with a "democratically accountable head of state", having called the Royal family an "outdated, discredited and totally undemocratic institution".
The 48-year-old is a Doctor Who fanatic and a keen cyclist - and is fond of a pint, having headed up Holyrood's cross-party group on beer and pubs.
The Green politician is fond of telling the story of how Mr Trump's team accused him of "blasphemy" in a bizarre row over a Monty Python-themed tweet.
The power-sharing deal includes leeway for the Greens to disagree with the SNP in some policy areas - and even potentially vote against them in parliament.
This may well suit Mr Harvie, who said during the election campaign that ministers get "lazy" when "the votes are in the bag before they turn up for work in the morning".
In government, his weighty title is "minister for zero carbon buildings, active travel and tenants' rights".
Reporting to Social Justice Secretary Shona Robison, Mr Harvie's areas of responsibility will include energy efficiency and domestic energy policy, building standards and promoting cycling and walking.
Lorna Slater is perhaps the lesser-known of the two Scottish Green leaders, having only taken up the post in 2019.
The 45-year-old was elected to Holyrood for the first time in May's election, having secured second place on her party's Lothian regional list.
However, she ultimately decided to stay and secured a job as an engineer in the renewables industry.
She worked her way up to become a project manager, overseeing marine renewable energy projects including the construction of advanced floating tidal turbines.
Ms Slater became politically active during the 2014 referendum, where she campaigned in favour of independence, and stood unsuccessfully in several elections before making it to Holyrood in 2021.
In July, she was involved in a protest against the Cambo oil field development outside the UK government's Edinburgh headquarters, criticising "a system that puts fossil fuel extraction and the maximisation of short-term profit above all else".
Ms Slater will work alongside Finance Secretary Kate Forbes as minister for green skills, circular economy and biodiversity.
Her responsibilities will include industrial strategy, jobs, national parks and natural heritage, nature recovery targets and recycling.